New Sneeze Guard Easily Attaches to Counters with No Drilling or Modifications
Press Release Summary: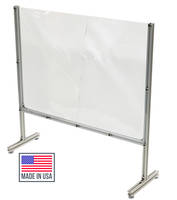 Made from heavy duty industrial T-slot frame with a limited life-time warranty
Features a heavy duty 1" bolt-In suction seal to counters or desks
Available in standard or custom sizes
---
Original Press Release:
NEW Sneeze Shield Portable Sneeze Guards from Steel Guard Protect Employees from COVID-19 & Bacterial Infection
Steel Guard Safety Announces New Sound Shield Portable Sneeze Guard for Commercial and Industrial Use that Easily Mounts to Tables and Countertops.
South Holland, Illinois –May 12, 2020 – Steel Guard Safety Corp  A leading manufacturer of Industrial Curtain & Specialty Barrier Products announced the release of new Portable Sneeze Guard to accommodate the growing need of business clients in industrial and commercial environments that need protection against the spread of Coronavirus.
 
Steel Guard Safety CEO Gregory Pretsch said, "Our Clients and the Industry is being bombarded for the need to have social distancing in there work Areas. Our Sneeze Shield Portable Sneeze Guard, is easy to assemble and has an Industrial strength frame that other Guards don't."
Steel Guard's portable separation screen provides a sneeze guard that is designed to protect employees and customers from airborne, virus-containing droplets caused by speaking, sneezing, laughing or coughing, or those that could infect someone with face-to-face interactions. These Counter Top Sneeze Screens are made from an Industrial Grade Frame and Easy to Assemble on site.
Benefits of Steel Guards Sneeze Shield:
Made from Heavy Duty Industrial T-Slot Frame with a Limited Life-time Warranty.
Easily Attaches to Counters with No Drilling or Modifications.
Heavy Duty 1" Bolt-In Suction Seal to Counters or Desks
Accommodates even large Areas with Heights from 37 Inches to 50 Inches in Height, and Widths up to 74 Inches 
.120 " Thick Marine Grade Clear PVC is More Cost Effective than Poly Carbonate to Replace After Years of Use.
Standard and Custom Sizes Available.
Easily Moveable and Relocatable without Any Maintenance Staff.
See More information Here on Steel Guards Portable Countertop Sneeze Guards
Or
https://www.steelguardsafety.com/portable-sneeze-guards/
Steel Guard Safety Complementary Product Lines Available for Barrier Protection:
https://www.steelguardsafety.com/industrial-curtains/
https://www.steelguardsafety.com/industrial-noise-control/sound-absorbing-blankets-industrial-sound-blankets/
https://www.steelguardsafety.com/machine-shield-guarding-hd-series/
https://www.steelguardsafety.com/energy-shield-insulated-curtains-stationary/
https://www.steelguardsafety.com/welding-blankets/
https://www.steelguardsafety.com/auto-guard-automotive-curtains
https://www.steelguardsafety.com/vinyl-tarps/
https://www.steelguardsafety.com/20-mil-clear-view-vinyl-pvc-tarp
https://www.steelguardsafety.com/18-oz-super-heavy-duty-vinyl-coated-tarps/
https://www.steelguardsafety.com/lead-blankets-lead-shielding-blankets-wool/
https://www.steelguardsafety.com/vehicle-photo-booths-car-photography-curtains/
https://www.steelguardsafety.com/warehouse-curtain-dividers
About Steel Guard Safety Corp
SteelGuardSafety.com manufactures an extensive line of Industrial Curtain Wall Barriers, COVID-19 Barrier Curtains, Sneeze Guards, Lead Wool Blankets,  Welding Curtains, Blankets, and Screens, Auto Body Curtains, Sound Blocking Curtains, Fencing Barriers, Vinyl Tarps and other Custom Safety Protective Barriers.  Exclusive to Steel Guard is its Steel-Scrim Triaxial (3-Directional) Scrimmed Vinyl for Superior strength used in many of its product lines. Other unique offerings include its Iron Clad Warranty with replacement of Products up to 6 years as well as the security of paying your OSHA fines if something goes wrong with your products application. The company offers the convenience of in-house Sales Reps as well as Outside Reps and Distributor Partners to accommodate Onsite Turnkey Service. For more details visit www.SteelGuardSafety.com
More from Architectural & Civil Engineering Products