New smartCUTTER Increases Convenience of smartPRINTER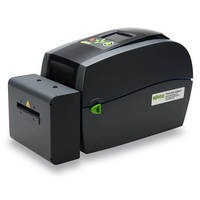 Germantown, WI - October, 2017 - The new WAGO smartCUTTER automates cutting of marking material on the WAGO smartPRINTER. WAGO's thermal transfer printer, already the fastest terminal block labeling system in the industry, is now even faster with automatic cutting.
The compact smartPRINTER (Version 1.1) prints and cuts a wide range of marking materials for terminal blocks, cables or conductors and devices. Download the smartDATA brochure for information, and for more on the latest from WAGO, visit www.wago.us/news.
About WAGO: Innovation is at the heart of everything we do at WAGO. From our pioneering CAGE CLAMP® spring pressure connection technology to our extensive range of Interconnect, Interface and Automation solutions, such as the fieldbus independent WAGO-I/O-SYSTEM, our customers count on the unconditional performance and reliability of our products to ensure the safe, efficient operation of their systems every time.
For additional information, visit www.wago.us. Contact WAGO at 1-800-DIN-RAIL or info.us@wago.com.
More from Construction Equipment and Supplies