New Smart Manufacturing Solutions for Laser Cutting and Bending Manufacturing Industry
Press Release Summary: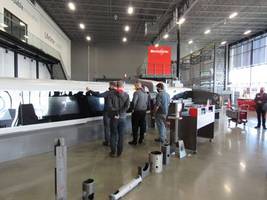 ByStar Fiber 15kW laser available with high cutting dynamics and thin to thick cutting capabilities
ByTube 130 3kW features tube diameter capacities up to 5.00 in. and lengths up to 28 ft.
Xpert Pro Bending Cell includes 7-Axis robot for automated gripper changing, tool changing and press brake tending
---
Original Press Release:
Bystronic, Inc. Opens The Doors to Their New Experience Center for Competence Days 2020 and Introducing Their 'World Class' Smart Manufacturing Solutions.
Bystronic Inc.'s Competence Days for the Americas 2020 event, was held over 10 days in November for guests to view demonstrations of their latest product releases and get a glimpse of their new Experience Center in Hoffman Estates, IL.
(Hoffman Estates, November 2020) Bystronic Inc., the American subsidiary of Bystronic Laser AG in Switzerland, was proud to showcase their new Experience Center for the first time since moving into their new facility, in February 2020. The event was held over a course of ten days - November 9-20 - offering two sessions each day, morning and afternoon. A solid effort to continue the annual Open House tradition and while also adhering to local and state COVID-19 guidelines and restrictions.
Smart Manufacturing Solutions for the American Market
The Competence Days event invited guests to view Bystronic Inc.'s innovative product line that serves the laser cutting and bending manufacturing market. A total of Six newly released products were demonstrated including the ByStar Fiber now available with up to a 15kW fiber laser source. With its high cutting dynamics, thin to thick cutting capabilities and seamless automation solutions, the ByStar Fiber 15kW laser cutting machine offers the best cost per cut part and shortest delivery times. Additionally, the ByTrans Cross automation component was demonstrated with the ByStar Fiber 15kW, highlighting a flexible solution for the loading and unloading of laser cutting systems.
Another exciting addition to their laser cutting product line was the Next Generation BySmart Fiber, now available with up to a 10kW fiber laser source. The Next Generation BySmart Fiber opens up the full potential of Fiber lasers to fabricators who want to gain a competitive edge with innovative technology and performance at an affordable price.
With the Modular Tool Changer option for the Xpert Pro, Bystronic takes the next evolutionary step in the field of bending with an intelligent sensor system and automated tool changing that saves time and increases bending quality in both thin and thick sheet metal. Flexible automation for fast and precise tool changing and reduced setup time is what the Xpert Pro Modular Tool Changer offers.
With the Bending Cell for the Xpert Pro, Bystronic introduces a completely automated fixed bending cell. The cell features the Xpert Pro press brake and can be adapted up to the model Xpert Pro 320. The cell features a 7-Axis robot for automated gripper changing, tool changing, press brake tending, loading of the bending blanks and unloading of the finished profiles. An automated re-gripping station enables the robot to re-grip the part during operations.
Bystronic Inc., has added to their tube cutting portfolio with the ByTube 130. The ByTube 130 3kW achieves high cutting speeds in thin to medium material thicknesses. From tube bundle loading to automated tube loading, cutting and unloading, the ByTube 130 automates the entire tube cutting process. The ByTube 130 with up to a 3kW fiber laser source, and tube diameter capacities up to 5.00 inches and lengths up to 28 feet, also features low operating costs and low maintenance requirements to add.
A Strategic Partnership with CLOOS Adds Robotic Welding to Bystronic's Competencies
Competence Days introduced the first Bystronic Robotic Welding Cell powered by CLOOS into the US market. CLOOS, with headquarters in Haiger, Germany and with offices in Schaumburg, IL will supply the Bystronic Robotic Welding cells and provide installation, training and service, while Bystronic will be responsible for the sales and distribution of these machines.
Let the Demonstrations Begin!
Presentations, demonstrations, lunch, and guided tours were all part of the agenda, each session. Allowing their guests to view, first-hand, the available "World Class" smart manufacturing solutions for their business. The Applications team was on deck, at request, to demonstrate each machine and its capabilities. Guided tours of the new Manufacturing Center were also offered. Here the Next Generation BySmart Fiber is being assembled for the first time in the US, saving delivery costs and lead times for our customers. Additionally, the Manufacturing Center is also home to the Renaissance Group (RG). The RG processes trade-ins of used machines, refurbishes them, and then resells at a market price. Guests were able to view available machines for sale and see the process of refurbishment.
Overall the event was a success, even considering the limitations of gathering size due to local COVID-19 restrictions. Bystronic Inc. was excited to host the Competence Days at their new facility and demonstrate their newly released and previously offered products and machines.
About Bystronic Inc.
Bystronic is a worldwide supplier of high-quality laser cutting systems, press brakes, automation and software for the economical processing of sheet metal and tubes. Bystronic stands for reliability, high-performance innovation, an outstanding price-performance ratio, and user-friendly operation. The focus is on the automation of the complete material and data flow of the sheet metal cutting and bending process chain. The company's North America headquarters is located in Hoffman Estates, IL. Offices are also located in Toronto, Canada and Monterrey, Mexico. For more information on Bystronic Inc., visit www.bystronicusa.com, or to contact by e-mail, sales.us@bystronic.com.
Released by:
Frank Arteaga, Head of Product Marketing
Bystronic Inc.
Cell 631-747-1243
Release Contact:
Judy Bellem, Principal, Key Accounts Director
SMM Advertising Inc
Direct 631-982-4004 | Cell 631-875-4663
More from Computer Hardware & Peripherals