New Smart Conference Table Features Wireless Qi Charging for Smartphones
Press Release Summary: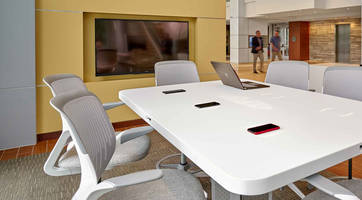 Includes smart room controls for lighting, shade and volume
Features touch pad-integrated, wireless control system
Corian® solid surface material is durable and can withstand the wear of regular use
---
Original Press Release:
DuPont Unveils Smart Conference Table - a Complete Communications Solution
Table features intuitive design to support business, improve collaboration.
Wilmington, DEL. (PRWeb) June12, 2019
DuPont Electronics & Imaging announced today it is introducing a first-of-its-kind Smart Conference Table, a complete communications solution for collaborative spaces. Drawing inspiration from insights across the fields of manufacturing, technology and design, the table adds style, reduces clutter and improves collaboration. DuPont will showcase the table and other innovations from its Smart Materials segment, at the InfoComm tradeshow in Orlando, Florida, June 12-14, booth #4088.
"DuPont is thrilled to share this product following months of extensive research and testing," said Brian Ammons, Business Director, Smart Materials. "We believe that products such as our Smart Conference Table are the future of collaboration and we are excited to provide solutions for this space, and others related to Smart Buildings and IoT (Internet of Things)."
The Smart Conference Table combines DuPont's experience in the fields of technology and design, offering a complete collaboration solution with seamless conferencing and phone calls, as well as easy-to-use controls for adjusting the room environment, including lighting, room shades and audio levels.
The table can include any combination of the following built-in design features:
Touch pad-integrated, wireless control system
Embedded LED lighting display for custom branding
Smart room controls for lighting, shade and volume
Retractable HDMI, USB and power supply cables
Wireless Qi charging for smartphones
Individual MEMS audio pickups for superior call clarity
Inductive speakers for high sound quality
Additionally, the Corian® Solid Surface material is durable and can withstand the wear of regular use. The table's modular design makes collaboration space redesign a simple process, no equipment or tools beyond the table to contend with.
The Smart Materials segment links DuPont's strengths in both the Building and Construction markets as well as in the Electronics space to develop new products centered on providing full IoT solutions for the Smart Building space. By integrating various electronic functionalities directly into building materials, DuPont is creating a new class of connected products. For more information, please visit electronics.dupont.com.
About DuPont Electronics & Imaging
DuPont Electronics & Imaging is a global supplier of materials and technologies serving the semiconductor, advanced chip packaging, circuit board, electronic and industrial finishing, display, and digital and flexographic printing industries. From advanced technology centers worldwide, teams of talented research scientists and application experts work closely with customers, providing solutions, products and technical service to enable next-generation technologies. More information about DuPont Electronics & Imaging can be found on our electronic solutions and advanced printing websites.
About DuPont
DuPont (NYSE: DD) is a global innovation leader with technology-based materials, ingredients and solutions that help transform industries and everyday life. Our employees apply diverse science and expertise to help customers advance their best ideas and deliver essential innovations in key markets including electronics, transportation, construction, water, health and wellness, food, and worker safety. More information can be found at http://www.dupont.com.
Contact Information
Noelle Hagen
DuPont
+1-919-536-9552
More from Material Processing