New SKF CPMT Telescopic Pillars Offer Virtually Maintenance-Free Vertical Motion
Press Release Summary: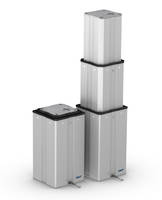 SKF CPMT Telescopic Pillars feature three-section design that provides configuration option for high load capacity, cabling choices for connectors and customized threads. Units offer retracted height of 320 mm and a stroke range of up to 600 mm. Capable of accessing pre-set positions for all clinical efficiencies, the pillars provide a load capacity of up to 6000 N and positioning speeds up to 34 mm/s. Units are certified to UL standards and are integrated into surgical tables and procedure chairs.
---
Original Press Release:
SKF CPMT Telescopic Pillars for Medical Procedure Tables and Chairs Optimize Access for Patients, Support Heavier Loads, and Deliver Efficient Lifting Performance
SKF CPMT telescopic pillars from SKF Motion Technologies, Inc. for integration into surgical tables, procedure chairs, and similar medical equipment enable optimized access for patients, support heavier loads, and deliver safe and efficient lifting performance. These complete plug-and-play systems ultimately provide OEM designers with ideal technologies to meet demanding marketplace requirements, gain a competitive business edge, and equip healthcare facilities with reliable, safe, and virtually maintenance-free vertical motion solutions.
CPMT telescopic pillars combine a low retracted height (320 mm or 12.6 in.) with a high stroke range (up to 600 mm or 23.6 in.) to improve accessibility for patients without compromising the extended height necessary for procedures. Other capabilities include a high load-carrying capacity (up to 6,000 N or 1,350 lbs.), as well as fast positioning speeds (up to 34 mm/s or 1.34 in./s) and the ability to access pre-set positions for overall clinical efficiencies. CPMT pillars are fully tested and UL certified according to IEC 60601-1:2005.
The three-section telescopic pillars additionally offer design flexibility with a wide range of special features, such as a configuration option for high offset load capacity to impart high stiffness, cabling choices for connectors (DIN8 or flying leads cable), and customized threads on the outer profile for directly mounting additional actuators and/or brackets.
These ready-to-install systems simplify integration into equipment, minimize associated production costs, and have been engineered to perform virtually maintenance-free over their lifetime. Available accessories include control units with multiple ports and hand- and foot-activation switches, among others. Custom pillar solutions can be developed to meet specific application requirements.
Contact Tarek Bugaighis, SKF Motion Technologies, Inc., 890 Forty Foot Road, P.O. Box 352, Lansdale, PA 19446. Tel: +1 267-436-6768. Email: tarek.bugaighis@skf.com. Website: www.skfusa.com
SKF is a leading global supplier of bearings, seals, mechatronics, lubrication systems, and services which include technical support, maintenance and reliability services, engineering consulting and training. SKF is represented in more than 130 countries and has around 17,000 distributor locations worldwide. Annual sales in 2017 were SEK 77,938 million (9.5 billion USD) and the number of employees was 45,678. www.skf.com
Contact This Company Download Spec Sheet
More from Software