New Sitara AM6x Processor Supports Gigabit Throughput Rates for TSN Standards
Press Release Summary: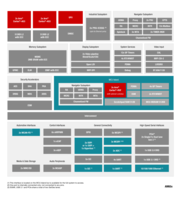 The Sitara™ AM6x TSN-Enabled Processor comes with quad and dual Arm® Cortex®-A53 core variants and is suitable for use in industry automation, motor drives and grid infrastructure. The processor features an on-chip isolated dual-core Arm Cortex-R5F CPU-based MCU subsystem. It offers support for multiple Industrial Ethernet protocols such as TSN, EtherCAT, Ethernet/IP and PROFINET. The integrated 3D graphics and display enables HMI and industrial PC applications.
---
Original Press Release:
TI Introduces First Multiprotocol Gigabit TSN-Enabled Processors for Industry 4.0
Industrial-grade Sitara™ AM6x processors offer advanced industrial communications, enhanced security, high reliability and functional safety features
DALLAS, Oct. 30, 2018 /PRNewswire/ -- Texas Instruments (TI) (NASDAQ: TXN) today announced the industry's first multiprotocol gigabit (Gb) time-sensitive networking (TSN)-enabled processor family. The new, highly integrated Sitara™ AM6x processor family provides industrial-grade reliability, with quad and dual Arm®Cortex®-A53 core variants built to meet the rapidly evolving needs of Industry 4.0 in factory automation, motor drives and grid infrastructure. For more information about Sitara AM6x processors, see www.ti.com/AM6x-pr.
By supporting gigabit throughput rates for TSN standards and other industrial protocols in a specific subsystem, Sitara™ AM6x processors are built for the convergence of both Ethernet and real-time data traffic on a single network. This capability is critical for real-time communication in Industry 4.0 applications and enables software-reconfigurable cyber physical systems in factories.
The inclusion of an on-chip isolated dual-core microcontroller (MCU) subsystem enables designers to use AM6x processors to create more dependable and functional safety-certifiable products, while reducing overall system-level complexity for applications including programmable logic controllers (PLC) and multi-axis motor drives. Comprehensive support for error-correcting-code (ECC) memory protection for both on-chip memory and external DDR memory and for  100,000 power-on hours (PoH) at a 105˚C junction temperature (TJ) operation enable AM6x processors to perform in high-reliability applications. This processor family allows developers to scale their designs to fit the needs of their system with pin-compatible processors that operate with a unified software platform.
Key features and benefits of AM6x processors
Optimized for industrial networking: New gigabit industrial communications subsystem (PRU-ICSS-Gb) supports multiple Industrial Ethernet protocols including TSN, EtherCAT, Ethernet/IP and PROFINET and provides the flexibility to support the evolving needs of industrial communication.
Integrated features enabling functional safety: On-chip isolated dual-core Arm Cortex-R5F central processing unit (CPU)-based MCU subsystem that can operate in an optional lockstep mode, diagnostic libraries and ECC memory protection help enable functional safety subsystems.
Enhanced on-chip security: Secure boot, secure storage and smart crypto engines enable enhanced system security.
Integrated 3D graphics and display: Enables HMI and Industrial PC applications.
Unified software platform: Supported by the Processor SDK, customers can seamlessly reuse and migrate Android™, Linux®and TI-RTOS software across TI processor families.
Simplifying system complexity: Integrated subsystems, streamlined power sequencing, integrated low-dropout regulators and pin-to-pin compatibility enable hardware reuse across platforms and reduce system complexity and cost.
Availability and pricing
Developers can get started immediately with Sitara processor-based development kits available through the TI store. The AM65x industrial development kit (IDK) (TMDX654IDKEVM) and AM65x evaluation module (EVM) (TMDX654GPEVM) are available for US$819and US$898, respectively.
Preproduction samples of AM6548 processors are available to order through the TI store. Production samples of AM65x processors will be available in 2H19 and priced starting at US$22.50 in 1,000-unit quantities.
Learn more about Sitara AM6x processors
About Texas Instruments
Texas Instruments Incorporated (TI) is a global semiconductor design and manufacturing company that develops analog ICs and embedded processors. By employing the world's brightest minds, TI creates innovations that shape the future of technology. TI is helping approximately 100,000 customers transform the future, today. Learn more at www.ti.com.
CONTACT: Allison Hopkins, Golin, 972-680-2551, ahopkins@golin.com; Susan Barr, Texas Instruments, 214-567-4419, sbarr@ti.com
Web Site: http://www.ti.com
More from Material Handling & Storage