New Simotics HV M Slipring Motors Provide Range of Power up to 4.5 MW
Press Release Summary: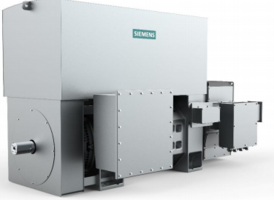 Designed for cement and mining industries
Reduces the mechanical stress on complete installed equipment
Integrated into SIDRIVE IQ applications to improve plant availability, serviceability, productivity and efficiency
---
Original Press Release:
Simotics HV M Slipring Motor Provides Fast Return on Investment in Cement and Mining Industries
New Simotics HV M slipring motors provide range of power up to 4.5 MW
Easy integration into SIDRIVE IQ applications for highest availability, serviceability, productivity and efficiency
Easy plant integration due to 3-D Motor models to speed up complete plant integration processes
Certified and proven Siemens MICALASTIC® VPI insulation system with extreme long lifetime
Building on more than a century of experience in manufacturing slipring motors, Siemens today announces the new Simotics HV M slipring motor. Designed and engineered for applications mainly in the cement and mining industries, the newest slipring motor is implemented in a wide range of applications including but not limited to mills, crushers, conveyors and fans. The new platform motor with its power range up to 4.5 MW completes the Siemens slipring motor family which covers now the power range from 0.5 to 8.2 MW.
The quality and durability of the newest slipring motor stand up to the toughest environments and applications. These motors are designed and dimensioned for applications with high load inertia and low starting current requirements, typically relevant in the Cement and Mining industries. Especially in high torque applications the Simotics HV M slipring motors reduce the mechanical stress on the complete installed equipment. In that way the plant availability is increased, wear and tear is reduced, and the lifetime of the plant is increased.
"The motors can easily be integrated into SIDRIVE IQ applications to improve plant availability, serviceability, productivity and efficiency for our customers. Plant planning and plant upgrades can be realized faster and more precise by using the 3D-model data of the motor," so Hermann Kleinod, CEO Siemens Large Drives Applications.
The Simotics HV M slipring motor's design is based on a modular platform concept, with lower weight but increased housing rigidity. Due to its modularity it can be flexibly and efficiently adjusted to individual business requirements. Critical for cement plants and mining operations, the high grades of standardization in the Simotics HV M slipring makes it easy to find spare parts to reduce operating costs and simplify service, avoiding plant downtimes to save time and costs. Ease of serviceability also help increase uptime. Machine covers can be lifted easily and service openings all around allow easy access to the interior.
Certified and proven Siemens MICALASTIC® VPI insulation system developed by Siemens uses Global Vacuum Pressure Impregnation technology to provide electrical, mechanical and thermal properties for high reliability and long lifetime.
Siemens AG (Berlin and Munich) is a global technology powerhouse that has stood for engineering excellence, innovation, quality, reliability and internationality for more than 170 years. The company is active around the globe, focusing on the areas of power generation and distribution, intelligent infrastructure for buildings and distributed energy systems, and automation and digitalization in the process and manufacturing industries. Through the separately managed company Siemens Mobility, a leading supplier of smart mobility solutions for rail and road transport, Siemens is shaping the world market for passenger and freight services. Due to its majority stakes in the publicly listed companies Siemens Healthineers AG and Siemens Gamesa Renewable Energy, Siemens is also a world-leading supplier of medical technology and digital healthcare services as well as environmentally friendly solutions for onshore and offshore wind power generation. In fiscal 2018, which ended on September 30, 2018, Siemens generated revenue of €83.0 billion and net income of €6.1 billion. At the end of September 2018, the company had around 379,000 employees worldwide. Further information is available on the Internet at www.siemens.com.
Contact For Journalists:
Paul Elflein
E-mail: paul.elflein@siemens.com