New Signal Conditioner from Endevco is RoHS and CE-Compliant
Press Release Summary: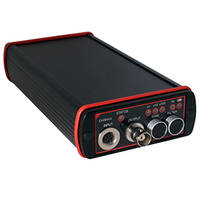 Comes with rechargeable li-ion battery, LED status indicator, universal 12 VDC, 2 AMP power supply and 2 Binder connectors for sensor input
Provides excitation supply to sensor and includes switchable gain, and optional filter
Features switchable 2nd order butterworth filter and ZMO (zero) Adjustment
---
Original Press Release:
Battery-Powered Single-Channel Signal Conditioner for Use with Bridge and Differential Voltage Sensors
March, 2020, Depew, New York – MTS Sensors, a division of MTS Systems Corporation (NASDAQ: MTSC) released Endevco Model 4418 low-noise signal conditioner providing test engineers with a new battery-operated solution for lab and field testing. The Model 4418 signal conditioner is designed to work with piezoresistive bridge sensors and differential voltage sensors, including Endevco's line of piezoresistive accelerometers, piezoresistive pressure sensors, variable capacitance accelerometers and angular rate sensors. The unit provides the excitation supply to the sensor and includes switchable gain, optional filter and zero output tuning. The Model 4418 is a small, lightweight single channel device and is unique in terms of its portability and functionality.
The compact size and full-day battery life of the internal lithium battery make the Model 4418 signal conditioner ideal for use in low channel count R&D applications where AC power is not available. 
Key features include:
Switchable 2nd Order Butterworth Filter
Switchable Gain x1, x10, x100
LED Status Indicator (Open, Short, Normal Operating)
ZMO (Zero) Adjustment
Rechargeable Li-Ion Battery with >8 Hours of Continuous Use
Battery Status LED
The RoHS and CE-compliant Model 4418 is offered with a universal 12 VDC, 2 AMP power supply with adaptors for USA, Europe, Japan and Australia, as well as 2 Binder connectors for sensor input. Optional accessories include a replacement battery and additional Binder connectors.
For more information on this product please visit: https://buy.endevco.com/Products?m=4418.
About Endevco
PCB Piezotronics, Inc. is a designer and manufacturer of microphones, and vibration, pressure, force, torque, load, and strain sensors, as well as the pioneer of ICP technology used by design engineers and predictive maintenance professionals worldwide for test, measurement, monitoring, and control requirements in automotive, aerospace, industrial, R&D, military, educational, commercial, and OEM applications. PCB also manufactures the Endevco product line of sensors, instrumentation and cables for vibration, shock and pressure measurements. With a worldwide customer support team, 24-hour SensorLine, and a global distribution network, PCB is committed to Total Customer Satisfaction. Visit www.pcb.com for more information. PCB Piezotronics, Inc. is a wholly owned subsidiary of MTS Systems Corporation. Additional information on MTS can be found at www.mts.com.
For media inquiries please contact:
Katie Lehman
Marketing Manager
800 828 8840
klehman@pcb.com
More from Adhesives & Sealants