New Shippping Scale Improves Accuracy, Increases Handling Speed and Reduces Errors
Press Release Summary: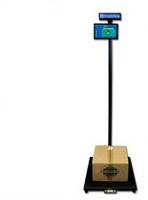 Measure parcels, document weight and dimensions for shipping
Maximizes parcel flow and limits the amount of time spent measuring shipping parcels
Designed to calculate shipping metrics by capturing length, width, height and weight
---
Original Press Release:
Fairbanks Scales Announces New Parcel Dimensioner Shipping Scale
Improves accuracy, increases handling speed, and reduces errors!
Overland Park, KS – Fairbanks Scales Inc., the oldest scale company in the U.S. and the world's leader in weighing equipment, announces its new Parcel Dimensioner Shipping Scale designed to calculate today's shipping metrics by capturing length, width, height, and weight.
The Fairbanks Scales Parcel Dimensioner Scale offers a fast and affordable way to measure parcels, document weight, and dimensions for shipping. Unlike other dimensioning systems on today's market, Fairbanks' offering enables users to capture both weight and volume metrics to determine true shipping costs. The system helps eliminate costly carrier re-classing charges because packaging can be optimized in house. It also captures an image of each parcel prior to carrier pickup. Many times, this image can be of great value to show the condition of a parcel at the time of shipment. Lastly, the dimensional data collected can be used to help manage and maximize valuable storage space for inventory or supplies.
The Parcel Dimensioner is designed for easy assembly with an average completion time of 20 minutes. It's simply a matter of attaching the mounting pole to the factory-calibrated scale and positioning the PC controller/monitor and FreightSnap dimensioning mast. Once assembled, the operator simply places a package on the scale and within seconds the package weight and cuboidal dimensions in length, width, and height are calculated and displayed.
Each Fairbanks Parcel Dimensioner comes packaged with FreightSnap's Density Management System (DMS) which offers one year of free cloud-based data storage and round-the-clock access to individual records for all shipments scanned by the dimensioner. It also offers helpful shipping analytics that can be used to meet operational and business goals. For an additional charge, FreightSnap's DMS platform can be customized to suit other individual business needs, such as integration with WMS, TMS, ERP, and other resource management platforms.
Investing in a Fairbanks Scales Parcel Dimensioning system provides the benefits of reducing operational costs, revenue recovery, increased throughput, reduced returns, and improved data quality. Across the board, the Fairbanks Parcel Dimensioner Shipping Scale maximizes your parcel flow and limits the amount of time spent measuring shipping parcels.
About Fairbanks Scales
Founded in 1830, Fairbanks Scales has become the leader in the industrial weighing market by creating and manufacturing an unrivaled range of weighing equipment solutions. From bench, parcel, counting, floor, and truck scales to animal, railroad track, and a full range of specialty scales, Fairbanks Scales has a reputation for being the most agile and attentive industrial weighing partner in the business. Headquartered in Kansas City, Mo., the company is also uniquely positioned to provide services for non-weighing products based on its nationwide contingent of technicians who can provide preventive maintenance and consistent, reliable service. To request more information or to find the Fairbanks representative or authorized distributor nearest you, please call (800) 451-4107, or visit www.fairbanks.com.
If it has to be right…It has to be Fairbanks!
Contact:
Ingrid Adel
Fairbanks Scales
+1-816-448-4288
iadel@fairbanks.com
More from Services