New Series of Steam Cleaner Machines Kills MRSA Bacterium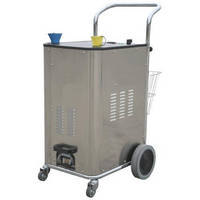 Daimer® introduces 8 new KleenJet® machines that sanitize and kill the most stubborn germs, including antibiotic-resistant staphylococcus.

WOBURN, MA, U.S.A. - Daimer Industries, Inc.®, a source of disinfecting steam cleaner equipment for hospitals, was awarded top rating for its EPA-compliant disinfecting technology called ATIS®. The technology comes standard on the new KleenJet 8300CP steam cleaner series. The lab results were generated by a nationally acclaimed laboratory, which tested ATIS® on Methicillin-resistant Staphylococcus aureus, also known as MRSA.

ATIS®, which is short for Advanced Thermal Ionic Sanitization(TM), is a disinfecting architecture integrated into the boiler units of specialized KleenJet® steam cleaner systems.

"These lab results affirm the disinfecting capabilities our KleenJet® ATIS® technology found in the new 8300CP line," exhorted Daimer.com ATIS® spokesperson Matthew Baratta. "In our opinion, this germ-killing design is the most effective on the market today."

8300CP Steam Cleaner Units vs. MRSA

MRSA organisms can cause fatal infections and are immune to common antibiotic treatments. These staph germs, previously found only in healthcare facilities, have been spotted in general public environments.

In the MRSA tests, it was confirmed that ATIS®-design steam cleaners can kill more than 99.9 percent of these dangerous microorganisms. In earlier tests, ATIS® has shown its effectiveness on microorganisms, such as those that can contaminate food and cause illnesses.

Daimer®'s 8300CP steam cleaner machines, which are equipped with capacious 24 liter water capacities, include steel boilers that carry a life-time warrantee. These 3650-watt systems offer nearly twice the steam power of 1600-watt systems. All 8300CP equipment has pressure levels of 120 psi and a temperatures reaching 329ºF. The machines include water and HEPA air filtration for allergens and microscopic debris that can cause health problems.

The steam cleaner machines are available in eight different power configurations that range from a 60 Hz, single phase 230V 8323-160 CP to a 60 Hz three phase 600V, 8360-360CP.

For additional information about the tests or Daimer® floor steam cleaner systems, tile steam cleaners, and steam cleaning machines, visit www.daimer.com/steam-cleaners/ or call Matthew Baratta at (888) 507-2220. The steam cleaners are available to customers in most countries. Minimum order quantities may apply.

About Daimer Industries, Inc.®: Daimer®, www.daimer.com, is a major supplier and worldwide exporter of the cleaning industry's leading line of KleenJet® steam cleaners/vapor steam cleaners/steam cleaning equipment; Super Max(TM) commercial and industrial pressure washers, including cold water, hot water, and steam pressure washing machines; XTreme Power® floor cleaners, including carpet cleaners, hard surface cleaners, and floor buffers/scrubbers/burnishers; and the line of Micro-Blasting® Eco-Green® environmentally friendly cleaning products that employ unique technologies and a patented, proprietary chemistry.


More from Transportation Industry Products