NEW! Series FMS Low Cost FMS Flow Sensor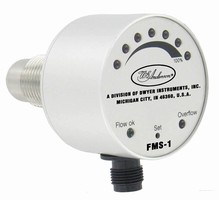 W.E. Anderson, a division of Dwyer Instruments, Inc., the preferred source for your complete range of practical and affordable instrumentation, is announcing the release of its NEW FMS FLOW SENSOR.

The Series FMS Flow Sensor is for applications requiring RELATIVE measurement and set-point of flow rate. This means that the actual velocity of the flow or the quantitative measurement in GPM is not known and is not important. What is important is that the set-point can be set as a "percentage of" or "relative to" the full flow rate. No other flow sensor could do it this simply or effectively.

More from Agricultural & Farming Products