New SCP Continuous Processors Come with Counter-Rotating Twin-Screw Shafts
Press Release Summary: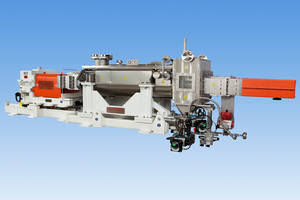 The SCP Continuous Processors are offered in four models and are suitable for removal of volatiles from adhesives, plastic resins, urethanes, acrylics and metallic soaps. These processors are capable of drying, cooling, degassing, chemically reacting, crystallizing and solvent recovery processes. The unit's ASME-rated jacketed barrel offers maximum transfer of heat sealed shafts while circulating a heating or cooling medium. The SC processors provide a differential screw rotation for creating consistent material flow.
---
Original Press Release:
New Line of Continuous Processors Transforms Slurries into Powders in One Step
SC Processor from Readco Kurimoto Reduces Moisture, Increases Viscosity
York, PA: The new SC Processor (SCP) line of continuous processors from manufacturer Readco Kurimoto, LLC, York, Pa. (www.readco.com), delivers highly efficient heat transfer in a novel, compact design to transform slurries into powders and/or increase the viscosity of slurries in a single step. Continuously accepting a wide range of liquids, slurries, powders, and/or wet cake, the SCP is capable of drying, cooling, degassing, crystallizing, chemically reacting, solvent recovery, and other processes in uninterrupted, 24/7 operation. The SC Processor line sets counter-rotating, hollow, twin screw shafts inside an ASME-rated, jacketed barrel while circulating a heating or cooling medium via the sealed shafts for maximum heat transfer and precise temperature control. Operating in vacuum conditions to reduce the boiling point of any liquids present, the proprietary Readco design promotes peak energy-efficiency and safeguards temperature-sensitive materials from excessive heat history while automatically evacuating moisture.
Ideal for removal of volatiles from adhesives, plastic resins, urethanes, acrylics, confectioneries, metallic soaps, industrial wastes, and in solvent recoveries, the SC Processor line has proven effective in continuously processing a wide variety of thick and sticky products often considered difficult to process in batches. The SC processor features a proprietary approach that incorporates differential screw rotation to create a consistent material flow towards discharge with a self-wiping action that ensures a homogeneous end product and meets target specifications. With this approach, the SC Processor excels in phase change applications where liquids are converted to sticky pastes, dry powders, or flakes.
The SC Processor line comprises four models, all custom-engineered and manufactured in the company's York, Pa. headquarters. The continuous processors meet target specifications based on testing conducted on-site using customer materials and formulations to verify performance with guaranteed results.
For a free brochure or more information, contact Readco Kurimoto, LLC, 460 Grim Lane, York PA 17406; 800-395-4959; or see www.Readco.com.
Media Contact: Paul Entin at 908-479-4231, paul@eprmarketing.com or David Sieglitz at 800-395-4959
Contact This Company Download Spec Sheet
More from Computer Hardware & Peripherals