New Scaffold Bench from Metaltech Has Multi-Purpose Features
Press Release Summary: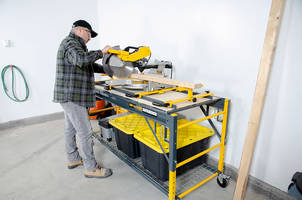 The new ScaffoldBench from Metaltech is a multi-purpose, four-in-one bench solution for job sites. The product functions as a traditional 6-foot baker scaffold, a garage storage unit, a utility cart, and mobile work bench and saw bench. The bench can reach up to 12 feet high and handle to 1,000 pounds. The platform is reversible, with one side featuring a deck and table while the other side features a saw bench with rails capable of supporting miter saws or table saws.
---
Original Press Release:
The New Metaltech ScaffoldBench Is A Unique Four-In-One Unit
ATLANTA, Oct. 18, 2018 /PRNewswire/ -- You need a scaffold to reach up to 12 feet high that can handle up to 1,100 pounds? You need a safe, secure storage unit for the garage? You need a utility cart to move tools and materials from your truck to the jobsite? You need a workbench on wheels that can easily be turned into a miter saw bench with rails that will hold your miter saw or table saw? And, of course, you don't want to buy four different units to handle this if you can help it; then Metaltech has the answer.
Experience the interactive Multichannel News Release here: https://www.multivu.com/players/English/8383053-metaltech-scaffoldbench-four-in-one/
The new ScaffoldBench by Metaltech is the only product of its kind on the market today. It is an innovative multiple-purpose four-in-one unit with many uses on the job site and in the home garage. It is a six-foot Baker Scaffold, a garage storage unit, a utility cart and a mobile workbench with miter saw stand.
Baker Scaffold
With no-tool assembly, the multipurpose ScaffoldBench can be used as a traditional six-foot Baker Scaffold with a 1,100 lb. capacity, which is 10 percent more than all competitive Bakers.
When standing on the deck, you can reach up to 12-feet. If you need to reach higher areas, it can be stacked up to three levels high for a 24-foot high reach. It also features easy-to-adjust spring-loaded locking pins, so you can change the height as needed every two inches from 27 inches up to 73 inches. Also included are five-inch heavy-duty, double-locking casters to move it around the jobsite or garage easily.
Garage Storage Unit
It can be used as a storage shelving unit in the garage with wheels. It includes one storage shelf and additional storage shelving is available.
Utility Cart
The ScaffoldBench can be used as a cart to haul heavy, bulky items. To move heavy items from your truck to the job; simply reposition the deck to the lower position and you can load all the materials and supplies you need to get everything to the jobsite fast and easy.
Mobile Workbench/Saw Bench
Here is where the true innovation lies. The Metaltech ScaffoldBench platform is reversible. One side is a deck/table, the other side is a saw bench with rails that will hold your miter saw or table saw. The saw-bench side is equipped with rails and comes with four universal brackets that fit all miter saws. Work supports can be repositioned quickly anywhere along the rail, thanks to an easy-to-adjust lever. Even better, if the ladder is in the way, you can remove the upper side frames to give you full access to the workbench from any side or for use as a table. The T-shaped material supports also serve as blocks to make identical cuts.  Optional roller support stands are available online.
The innovative Metaltech ScaffoldBench is sold exclusively at The Home Depot. For more information go to https://www.metaltech.co/scaffoldbench.
Related