New SAW Devices for RF Filtering and Duplexer Duties
Press Release Summary: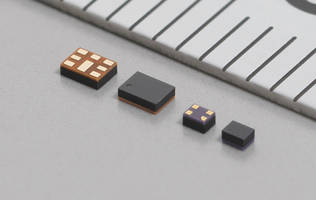 Address the ongoing and increasing need to reduce size of components in mobile phones
Placed between antennas and transmitting/receiving circuits
Extracts wireless signals at certain frequencies
---
Original Press Release:
Murata's Ultra-small SAW Devices Address The Needs of 5G
Hoofddorp, Netherlands: Murata has announced new surface acoustic wave (SAW) devices for RF filtering and duplexer duties. The devices address the ongoing and ever increasing need to reduce the size of components in mobile phones, especially with the coming of 5G.
Murata's SAYAV/SAYAR series for duplexing come in the 1612 size, and the SAFFW series in 0907 size for Rx filtering. They are the world's smallest devices with equal or better characteristics compared to conventional SAW devices.
For use in smart phones, WiFi home routers, M2M modules (industrial) and other IoT devices with LTE and WiFi, Murata's SAW devices will appeal to engineers who are developing consumer and/or industrial devices with an LTE/Wifi function.
As smartphones now deliver more functions and performance, they need a larger battery capacity, and they tend to have more elaborate, space-hungry, built-in cameras. To create more space to mount components that enable extra functions and higher performance levels, smaller RF substrates are required for handling wireless signals.
At the same time, modern smartphones support multiple bands while LTE now adopts wireless technologies that improve signal reception quality such as carrier aggregation and multiple-input and multiple-output (MIMO). This has made RF circuits increasingly complex. Also, to support the upcoming implementation of the fifth-generation mobile communications system (5G), RF circuits will inevitably become more complex at a faster pace.
To address these advancements in smartphone technologies, smaller RF circuit components are required. This is particularly true in the case of SAW devices which are placed between antennas and transmitting/receiving circuits to extract wireless signals at certain frequencies. They are components with a higher demand for smaller size because smartphones, even mid range models for specific regions, feature 14 to 15 SAW devices, while premium-class models that can be used worldwide have as many as 30 to 40 SAW devices. Demonstrably, there's clearly a need for a space-saving solution to the size of SAW devices, one that Murata has addressed and achieved with this new range of devices.
Using its in-house experience and technology, Murata has successfully designed the devices to be smaller-sized products that support low frequencies despite the technical challenges in doing so. One of the chief benefits of this to the designer being that the tiny devices handle frequency bands from 800 MHz to 2.6 GHz. So in their smaller sizes, the devices equal or have better performance characteristics than similar products from the competition. Murata will gradually add new models to the range to support the LTE communications standard worldwide.
About Murata
Murata is a leading manufacturer of electronic components, modules, and devices. The complete range includes ceramic capacitors, resistors/thermistors, inductors/chokes, timing devices, buzzers, sensors and EMI suppression filters. Whilst the company is known as a global ceramic capacitor manufacturer, it is also a world leader in Bluetooth® & WiFi™ Modules, board-mount DC-DC converters and is a key manufacturer of standard and custom AC-DC power supplies.
Established in 1944, Murata is headquartered in Japan and has European offices in Finland, France, Germany, Hungary, Italy, the Netherlands, Spain, Switzerland and the UK.
For more information on Murata, please visit: www.murata.com. You can also follow us on Twitter @MurataEurope or LinkedIn http://www.linkedin.com/company/murata-electronics, or join us on Facebook at http://www.facebook.com/MurataElectronics.
For further information and reader enquiries:
Contacts:
Dunya Kamil, Murata Electronics Europe B.V., Wegalaan 2, 2132 JC, Hoofddorp, The Netherlands
Tel:+31 (0) 23 56 98 456
E-mail: dkamil@murata.com
Fax:+31 (0) 23 56 98 361
Web:www.murata.com
Agency Contact:
Rachel Sandeman, Publitek Limited, 18 Brock Street, Bath, BA1 2LW, United Kingdom
Tel:+44 (0) 2038 136425
E-mail: rachel.sandeman@publitek.com
Web:www.publitek.com