New SatinTech Mirrors Soften Reflections and Diffuse Daylight Throughout the Interior Spaces
Press Release Summary: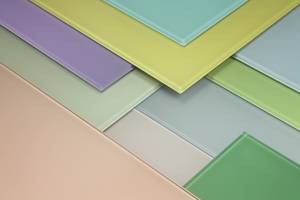 Bendheim's Anti-Glare SatinTech™ Mirrors are used in applications hospitality, commercial and residential interiors for luminous featured walls. Units are available in sizes up to 60 x 120 in., with 1/4 in. approximate thickness in earth tones such as pale, dark bronze and various shades of grey. These laminated etched mirrors capture the movement and accentuate colors in the space.
---
Original Press Release:
Introducing Hard-Working Anti-Glare Glass Surfaces By Bendheim
Bendheim introduces a new line of anti-glare architectural surfaces with new "Lite" SatinTech™ mirrors. The laminated etched mirrors soften reflections and diffuse daylight throughout the space, helping to boost the mood and productivity of occupants.
NEW YORK (PRWEB) MAY 22, 2018
Architects and designers are continuing to adopt holistic approaches to creating healthier environments. Mood- and productivity-boosting daylight, with the help of specialty architectural glass, can have a profound impact on the health and wellness for building occupants. Bendheim's new anti-glare architectural mirrors enhance the ambiance of interior spaces by gently reflecting and diffusing daylight.
The "Lite" SatinTech™ mirrors provide softened reflections, creating luminous feature walls for a variety of applications, including hospitality, commercial, and residential interiors. The laminated etched mirrors display a sense of depth as they capture movement and accentuate colors in the space. The mirrors are available in a range of sophisticated earth tones, including pale and dark bronze and several shades of grey.
The reveal of this new palette comes on the heels of Bendheim's recent ADEX Platinum Design Awards for the Houdini Unlocked™ and SatinTech™ Pastels. Both architectural glass collections gently disperse light and eliminate unwanted glare.
"Mirrored etched glass is a 'quiet' but powerful design element that can transform the space," said Donald Jayson, Bendheim's Senior Vice President. "Our carefully chosen color palette offers a contemporary aesthetic ideal for today's design."
Bendheim's new SatinTech mirrors are durable and maintenance friendly; a great fit for high-traffic environments and applications requiring safety glass, including elevator interiors. They are available in sizes up to 60" by 120", in ¼" approx. thickness.
As a valued partner, Bendheim's team brings decades of specialty architectural glass experience to building and design professionals. To learn more, please visit http://www.bendheim.com.
Contact Information
Christina Scott
Catalyst Marketing Communications, Inc.
+1 203.348.7541
More from Fluid & Gas Flow Equipment