New S-TEST System for Digital Sensors
Press Release Summary: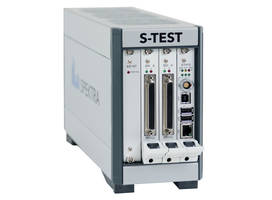 Supports interface protocols like JTAG, I2C, SPI, CAN, LIN, SENT and PSI5
Can capture and process sensor data during characterization
Sensors with two digital pins and flexible data rates for various applications
---
Original Press Release:
SPEKTRA S-TEST Supports Test of Sensors with New I3C® Interface
Digital sensors today are not only measuring a wide variety of environmental parameters such as temperature, light intensity, acceleration, sound level or air quality, but they also come with a similar large number of different sensor interfaces. Many different data transfer protocols with diverse data formats are not making the life of developers and system integrators any easier.
A modern mobile device easily contains more than 10 different sensor types and in worst case all of them are using a completely different sensor interface. If the automotive industry uses interfaces like CAN-Bus or PSI5, the consumer good segment operates with other standards like I C and SPI.
In order to find a solution for this somewhat uncontrolled variety, the mipi alliance published the new I3C standard in 2018. This new standard allows the implementation of sensors with only two digital pins but very flexible data rates for a variety of applications.
The SPEKTRA S-TEST product line, a compact system level test solution for digital sensors, is now supporting the new I3C standard, version 1.0, in addition to several other sensor interface protocols like JTAG, I C, SPI, CAN, LIN, SENT and PSI5.
This enables the test system to capture and process sensor data during characterization in development laboratories as well as to use this newest sensor interface also during final test of the newest generation of MEMS sensors.
Learn more about our S-TEST Lab and S-TEST Fab solutions for MEMS sensors.