Briefcase / Laptop / Business Cases
New Rugged Laptop Case Comes with Movable PERFECT FIT Corner Pockets
Press Release Summary: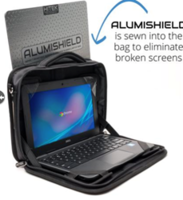 Hitek's Rugged Laptop Case features 1680D ballistic nylon construction and built-in carrying handle and a shoulder strap. The unit's always-in design with Cooling Channel™ technology allows the computer to be used without being removed from the case. The built-in Alumishild metal plate prevents cracked screens and the case is offered in black, anti-graffati design and with interior dimensions of 12.9 x 9.5 x 1.5 in.
---
Original Press Release:
HITEK Releases New Slim Profile Version of Their Rugged Laptop Case
HITEK has added a new option to their Rugged Laptop Case. The popular case is now available in a slim version for an even better fit in charging carts.
CHICAGO (PRWEB) AUGUST 09, 2018 - HITEK designs their products specifically for ease of use in K-12 schools. They have been constantly improving the Rugged Laptop Case to meet the needs of students and educators for years. Last month they debuted the G3 case which comes with AlumiShield, a metal shield that even further protects the device from drops and falls. Now they have released the exact same case, but with a slimmer profile.
The Slim Rugged Laptop Case has all of the same features as the recently released third generation Rugged Laptop Case. The only difference is that this model has a more slim profile. This enables the case to fit more compact within standard charging carts. It is also a good solution for those who simply want to carry around a bad with a slimmer profile.
A 2013 Huffpost report found that 50 percent of parents report their children have caused damage to an electronic device at some point, costing $2.8 billion over the past five years. Click here for full article. With more and more schools moving to 1:1 laptop and Chromebook initiatives it is more important than ever to keep these devices protected.
To demonstrate the added durability of AlumiShield, Sunrise conducted some tests. One of these tests was for drop protection. They dropped a 4lb. Weight from 2ft. Above and recorded the results. Sunrise's Rugged Laptop Case with AlumiShield passed without a broken screen. The competitor bag tested, however, did not are so well. The competitor glass was shattered.
HITEK also offer the Mobile Charging Cart with charging capacity of up to (32) total devices at the same time. Each slot measures 1.625"W x 16.3125"D x 12"H and fits most laptops and Chromebooks up to 15", and all tablets including iPad Pro™. While the 32 capacity is a given, dividers can be skipped to accommodate wider devices and a separate shelf stores power adapters and cables with cable management for easy charging and is height adjustable to accommodate device requirements.
About HITEK 
Sunrise Hitek is a leading maker of protective gear for schools' 1:1 technology programs. HITEK has been designing tech accessories since 2013 and expanding ever since. Their primary customer are K-12 schools, leading them to recently develop the hitekcases website specifically for the educational sector. Sunrise Hitek Group, LLC, also operates Sunrise Hitek, a leading color printing company based in Chicago. As a G7 Qualified Master Printer, Sunrise is uniquely qualified among protective gear makers to offer a wide array of customization options, ensuring the most consistent and accurate color reproduction. Sunrise is an Inc. 5000 company established in 1988 and employs the most advanced equipment and technology, such as G7-certified HP Indigo and UV flatbed presses, and digital die-cutting, to create best-in-class products. A privately-owned enterprise, the company is based in Chicago and sells products worldwide.
Contact Information
Jimmy Sun
Sunrise Hitek Group LLC
http://www.sunrisehitek.com
+1 (773) 792-8880 Ext: 805
Patti Elliott
Sunrise Hitek Group LLC
http://www.sunrisehitek.com
More from Mechanical Power Transmission