New RRC Series Downlight Retrofits Come with an Integrated Emergency Back-Up Option
Press Release Summary: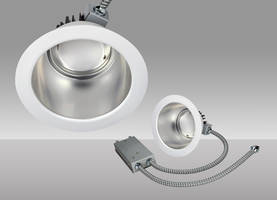 The RRC Series Downlight Retrofits are available in series ranging from 10 W to 50 W with outputs of approximately 900 to 4,500 lumens. The units are compatible with 4, 6, 8, or 9 in. reflectors and provide color temperature of 3000 K, 3500 K or 4000 K. MaxLite offers 10W, 15W, 20W Triac dimming driver options for the RRC series downlights.
---
Original Press Release:
MaxLite Launches Commercial Downlight Retrofits as Modular Downlighting Solution
WEST CALDWELL, N.J. (September 21, 2018) – MaxLite introduces a new series of Commercial Downlight Retrofits featuring modular light engines, reflectors and housings to meet the requirements of a broad range of retrofit and new construction lighting projects.
The ENERGY STAR certified Commercial Downlight Retrofit family (RRC series) is a highly efficient option for upgrading existing incandescent, fluorescent and metal halide downlight fixtures to the energy savings and long life of LED. Light engines in the series range from 10W to 50W, with outputs of approximately 900 to 4,500 lumens. Customers simply choose the light engine for the desired light output, color temperature (3000K, 3500K or 4000K) and dimming protocol, and then select the compatible reflector (4", 6," 8," or 9") to meet the application need. Triac dimming drivers are available for lower wattages (10W, 15W, 20W) in the series, while 0-10V is offered across the full range, which also includes 30W and 50W engines. Unique to the RRC range is an integrated emergency back-up option that allows for a retrofit EM solution.
The Commercial Downlight Retrofit mounts easily into the existing recessed housing, or may be combined with MaxLite commercial or architectural frames for a fixture solution.
"The RRC series is a full-featured line that builds on the best qualities of our previous commercial retrofit products with improved efficacy, dimming performance and the ability to retrofit emergency management – an innovation not available in competitors' products," said Director of Indoor Product Management Brendan Drew. "At the same time we've upgraded performance, we've also streamlined the ordering process to make it easy for customers to identify and purchase exactly the right light engine, reflector size and dimming requirements for their lighting projects."
For complete specifications, view the product page at: https://www.maxlite.com/products/rrc-series-commercial-downlights
With three commercial product lines to choose from, MaxLite offers a downlight for nearly every interior lighting requirement. In addition to the new RRC Series, the portfolio includes the all-in-one Universal Commercial Downlight Fixture and value-driven ECO Series Commercial Recessed Retrofit Downlights. For an in-depth look at the RRC family, and the complete MaxLite downlight portfolio, view our recent webinar on YouTube: https://www.youtube.com/watch?v=hFO3rzTgqKw&feature=youtu.be
For a guide to choosing the right downlight for your commercial lighting project, click here: https://www.maxlite.com/resources/PDFS/Catalogs/2018_Commercial_Downlight_Brochure.pdf
 About MaxLite (www.maxlite.com)
MaxLite has been committed to providing energy-efficient lighting products since 1993. One of the first movers into LED technology in the industry, MaxLite offers an extensive line of quality, certified indoor and outdoor LED lamps and luminaires. A five-time recipient of the ENERGY STAR Partner of the Year Award for its industry leadership, MaxLite continues to be at the forefront of energy-efficient technologies through the innovative research and development capabilities of its New Jersey headquarters and California office. For more information, call 800-555-5629, email info@maxlite.com, or follow us on LinkedIn, Facebook, Twitter and Instagram.
More from Cleaning Products & Equipment