New rhAmpSeq Targeted Sequencing System Generates NGS-Ready Amplicon Libraries in Two PCR Steps
Press Release Summary: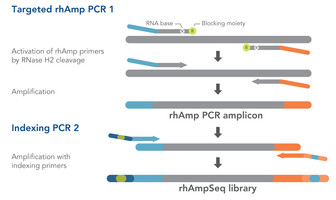 Suitable for applications such as CRISPR genome editing analysis and agricultural biotechnology, human disease research and sample tracking and analysis
Optimized for performing across panel sizes ranging from tens to thousands of amplicons in a single multiplex reaction
Embedded with RNase H2 PCR technology consisting of RNase H2/DNA polymerase two-enzyme system coupled with RNA-DNA hybrid primers
---
Original Press Release:
IDT Lowers Genomic Barriers with Powerful rhAmpSeq™ Targeted Sequencing System
Increasing accuracy and reducing cost barriers, IDT's innovative system delivers simple and cost-effective amplicon sequencing
CORALVILLE, IA (March 6, 2019) – As a dedicated innovator of tools and solutions for genomics applications, Integrated DNA Technologies (IDT) introduces its unique, rhAmpSeq™ targeted sequencing system - providing researchers with highly accurate, cost-effective and easy-to-use amplicon sequencing on Illumina® next-generation sequencing (NGS) platforms. The proprietary rhAmpSeq chemistry enables multiplexing at impressive levels with high on-target rates and uniform coverage, delivering accurate results and accelerating projects. The system has wide-ranging applications including human disease research and sample tracking and analysis, CRISPR genome editing analysis and agricultural biotechnology.
In recent years, the cost of NGS sequencing has dramatically decreased; however, costs for sample library preparation have remained relatively static. In order to advocate for genomics researchers by lowering the cost barriers and making workflows simpler, IDT has developed the rhAmpSeq system to combine the power of NGS with the simplicity and value of PCR.
The new suite of rhAmpSeq targeted sequencing reagents is the second largest genomics product offering to harness the power of IDT's proprietary RNase H2 PCR (rhAmp™ PCR) technology, following the company's popular rhAmp™ SNP genotyping system. The technology employs a unique RNase H2/DNA polymerase two-enzyme system coupled with RNA-DNA hybrid primers that increase the specificity of PCR amplification while minimizing primer dimer formation - a real challenge for other amplicon-based chemistries and the biggest limitation of PCR multiplexing.
The rhAmpSeq system enables high multiplexing levels—minimizing the number of reagents needed and lowering costs—thanks to its unique ability to minimize primer-dimer formation and misprimed PCR products. A streamlined, easy workflow saves time, generating NGS-ready amplicon libraries in just two simple PCR steps.
Professor Bruce Reisch at Cornell University's College of Agriculture and Life Sciences leads a multi-institution research collaboration that has been adapting rhAmpSeq technology to their 250-bp haplotype strategy targeting the core genome. He commented, "As early testers of the rhAmpSeq system from IDT, we were really pleased to see how we were able to rapidly accelerate the VitisGen2 program by using a nearly 2,000 marker rhAmpSeq panel to analyze 19 Vitis linkage groups. The core marker set was useful across six unrelated populations representing the diversity of the genus, and the workflow was very easy to use and allowed high-throughput processing."
IDT has optimized the rhAmpSeq system for consistent performance across panel sizes from tens to thousands of amplicons in a single multiplex reaction, and the system can be used with either a regular or high-throughput protocol to match individual needs. In addition, the rhAmpSeq system is highly versatile – the technology enables researchers to design large custom panels with flexible amplicon sizes that can be tailored for various applications and sample types.
Trey Martin, President of IDT, added, "We're really excited to expand our NGS product portfolio with rhAmpSeq. There has been a real need for a high-performance amplicon sequencing system and we're delighted to bring it to the market after several years of development. IDT's rhAmp PCR technology enables higher specificity in multiplex systems while simultaneously simplifying the workflow. Though our target was to provide better data, faster for researchers, we also designed the system to be cost-effective. IDT's mission and long-standing tradition is to enable researchers to have greater access to high-quality, budget-friendly genomic tools that provide differentiated results."
For more information please visit www.idtdna.com
Follow IDT on twitter @idtdna for real-time updates and insights.
About IDT
Integrated DNA Technologies, Inc. (IDT) develops, manufactures, and markets nucleic acid products for the life sciences industry in the areas of academic and commercial research, agriculture, medical diagnostics, and pharmaceutical development. IDT has developed proprietary technologies for genomics applications such as next generation sequencing, CRISPR genome editing, qPCR, and RNA interference. Through its GMP services, IDT manufactures products used in diagnostic tests for many forms of cancer and most inherited and infectious diseases. IDT is widely recognized as the industry leader in custom nucleic acid manufacture, serving over 100,000 life sciences researchers and producing over 65,000 nucleic acids daily. IDT has its manufacturing headquarters in Coralville, Iowa, USA, with additional manufacturing sites in San Diego, California, USA; Leuven, Belgium; and Singapore.
Integrated DNA Technologies
800-328-2661 (US & Canada)
+1 319-626-8400 (outside US)
[email protected]
www.idtdna.com
Media Enquiries:
Alto Marketing Limited
Victoria Coupe – Senior Account Manager
t: +44 (0)1489 557672
IDT enquiries:
Integrated DNA Technologies
Kristyn Cook, Manager of Brand & Public Relations
t: +1 319 626 8438