New RFID and IoT Forklift Readers Come with IP65 Rating for Use in Harsh Environments
Press Release Summary: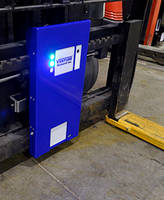 Venture's Industrial Forklift Readers are offered with integrated RFID reader, dual antenna array and 12 V to 36 V power conditioner/ regulator. The units are equipped with LED indicators (red, yellow, green), height sensors, front facing distance sensor for accurate pallet sensing. The readers offer RS232 console, or optional cellular connectivity and support up to eight RFID antennas. The forklift readers come with built-in GPS, Li-Ion swappable rechargeable battery and Enterprise Wi-Fi® support.
---
Original Press Release:
Venture Research Creates the Next Generation RFID and IoT Forklift Reader for the Most Demanding Warehouse and Logistics Applications
The intelligent Forklift RFID Reader can autonomously manage a pick, drop, stack and move operation using an array of RFID and IoT sensors.
PLANO, Texas — July 25, 2018 — Today, Venture Research, Inc., a leading global supplier of RFID and IoT solutions has announced the next generation of Industrial Forklift Readers. The Venture Research solution is designed from the ground up to withstand both indoor and outdoor harsh environments of forklift usage with its IP65 rating while incorporating the state of the art in RFID and IoT technology. With the swappable rechargeable Li-ion battery, the reader can be quickly installed to full operation in just 5 minutes on a standard type 2 or type 3 carriage forklift.
The Forklift Reader can sense its environment and autonomously manage the complete pick, drop and stack operations while providing store and forward transactions directly to the cloud via Wi-Fi or optional Cellular communications. Built in location tracking incorporating GPS, RFID and IoT (BLE) provides positional awareness of the forklift in real time.
An extensive array of options including support of up to 8 additional antennas, front facing camera, Vehicle Mount Terminal (VMT) support, GPIO, CAN Bus interfacing and flexible power options round out the extensive built in features.
Key features of the rugged RFID system for forklifts include:
IP65 rating protects from harsh environments
Integrated RFID reader and dual antenna array in a single enclosure
12V to 36V integrated power conditioner/regulator for forklift provided battery power
Integrated Li-Ion swappable rechargeable battery provides 9 hours of continuous use
Height sensor to provide stacking and rack placement
Front facing distance sensor for accurate pallet sensing
Visibility indication with red, yellow and green LED indicators
Dual band 802.11a/b/g with Enterprise Wi-Fi® support,
RS232 console, or optional cellular connectivity
Directly compatible with Type 2 or Type 3 carriage standards
Built-in GPS
Integrated positional tracking using BLE
Supports up to 8 additional RFID antennas
Real-time support available 24/7, 365 days
Contact Venture Research to find out what your business can achieve using the Industrial Forklift RFID Reader.
About Venture Research
For over 20 years, Venture Research Inc. has been providing end to end solutions for customers in the area of supply chain automation and asset management with specialization in RFID and IoT. The Company's products and services have been deployed in over 1,000 installations in 28 countries on 6 continents. Venture Research provides state of the art solutions to the Aerospace, Department of Defense, Manufacturing, Pharmaceutical, Distribution, Security, Document Tracking, Waste Management, and specialty tracking industries and has been an industry consultant related to the technology, processes and methodology to embed RFID and IoT sensors in existing processes. Visit: www.ventureresearch.com.
Information Contact
Media: Veronica Henley
Email: veronica@forwardvision.net
Tel. (305) 776-0455
Venture Research Contact: John Baker
Email: jbaker@ventureresearch.com
Tel. (469) 246-4000
More from Architectural & Civil Engineering Products