New RF Synthesiser with Noiseless Clock Multiplier Technology
Press Release Summary: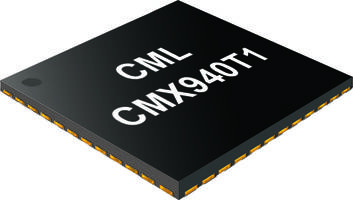 CMX940 operates from a 3.0 to 3.6 V supply with a current consumption between 23 and 64 mA
Capable of generating RF signals over a continuous frequency range from 49 to 2040 MHz
Ideal for portable and battery powered applications
---
Original Press Release:
CML Introduces Fully Integrated RF Synthesiser for Low Power Applications
Maldon, Essex - 30 November 2020 - CML Microcircuits is pleased to introduce the CMX940, a fully integrated Fractional-N RF synthesiser with VCO that achieves low phase noise and excellent spurious performance in a low power single-chip solution. The CMX940 surpasses the industry prerequisites for enabling a new generation of private mobile radio (PMR), data modems, marine radios and other wireless systems.
In order to achieve high performance and flexibility in a low power solution, CML has implemented a dual-loop architecture with a highly-configurable reference path, consisting of a separate PLL and VCO, used to minimize close-in phase noise and mitigate integer and fractional boundary spurious.
Managing phase noise and spurious performance are fundamental to meeting international, including ETSI, radio standards such as EN 300 113 and EN 300 086, mandated for narrow-band systems. The CMX940 has a number of design innovation such as a near noiseless clock multiplier technology which will deliver the high performance needed to meet these stringent requirements.
The CMX940 is capable of generating RF signals over a continuous frequency range from 49 MHz to 2040 MHz, with dual single-ended RF outputs to support Rx and Tx sub-systems. Only an external loop filter and clock reference are needed to provide a compact and high quality local oscillator (LO) source.
Many synthesizers targeting these application areas are based on a PLL IC with a large number of discrete external parts to implement the voltage-controlled oscillator (VCO), which consumes valuable PCB real estate. CML aims to reduce component count / board area, eliminate VCO tolerancing issues and speed up time to market with a more integrated silicon approach.
At carrier frequency of 500 MHz the typical phase noise is -124 dBc/Hz at 12.5 kHz offset and spurious products are better than -75 dBc. The CMX940 operates from a 3.0 to 3.6 V supply, with a current consumption of between 23 mA and 64 mA depending on device configuration, making it an ideal choice for portable and battery powered applications.
About CML Microcircuits
CML Microcircuits is a world-leader in the design, development and supply of low-power analogue, digital and mixed-signal semiconductors for telecommunications systems globally.
The company's wide and varied portfolio means that CML devices are used in an extensive range of industrial and commercial products for licensed and unlicensed wireless voice and data systems.
Focusing on narrowband communications, CML's ICs are found in digital/analogue PMR/LMR, wireless data, satellite communications and marine radio applications, such as TETRA, DMR, dPMR, SCADA systems and Marine communications. The CML portfolio provides components supporting both RF and baseband functionality, encompassing both leading edge digital and legacy analogue systems.
CML has a proud history of world leading innovation in RF technology with the ground breaking designs such as the world's most successful solution for Cartesian Loop RF linearization and the first Direct Conversion receiver IC to meet the demanding requirements of narrowband professional radio.
In addition to our established range of devices, we are able to offer bespoke solutions to customers. This service includes design assistance, advice and first class technical support. Our FirmASIC® approach enables us to produce the optimum solution to a given design requirement. The outcome is a product offering that embraces a number of key technologies and delivers the result cost-effectively with fast time to market, ultimate flexibility and low risk.
CML Microcircuits is a member of the CML Microsystems Plc. Group of companies.
CML Microcircuits Contact:
Jessica Hickman
Marketing and Communications Officer
Email: jhickman@cmlmicro.com
Telephone: +44 (0)1621 875500
Press Contact:
Sarah Hatcher
Account Director, Media Relations & Client Services
Publitek
Email: sarah.hatcher@publitek.com
Telephone: +44 (0)1225 470000
More from Architectural & Civil Engineering Products