New Revenue-Grade Energy Meters with Intuitive Color Display
Press Release Summary: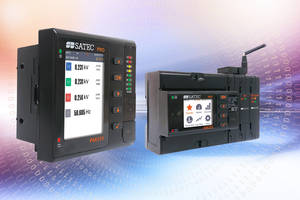 PRO series features PLC functionality which provides up to 64 programmable setpoints
Seamlessly integrates with SATEC ExpertPower, DNP and other 3rd party platforms
Ideal for facility-wide energy management, tenant submetering and electric substation
---
Original Press Release:
SATEC PRO Series Revenue-Grade Energy Meters Connect to AC or DC Inputs
AC or DC inputs provide flexibility for measuring/monitoring utility power or alternative energy sources; ideal for a range of utility, commercial and industrial application
Union, NJ—March 2, 2021—SATEC, Inc., global supplier of monitoring instrumentation and software serving commercial/industrial and electric utility applications, introduces the PRO Series of revenue-grade energy meters. This advance-technology line of DIN-rail and panel-mounted meters is the first in its class to accept either AC or DC voltage and current inputs. Applications include facility-wide energy management, solar panel and battery storage metering, tenant submetering and electric substation, and distributed energy resource metering.
The PRO Series power meters' modular design bundles, into a single device, multiple important functions, useful features and benefits:
AC (Three-phase + Neutral) and DC Inputs – only product in this class offering both AC (10-1000V) and DC (10-3000V) in the same meter
Revenue-Grade Accuracy – ANSI C12.20 Class 0.2, IEC 62053-22, IEC 61557-12 class 0.2
Intuitive Color Display – icons facilitate easy set-up and display
Dual Ethernet Ports – two independent IP addressable ports
Comms Protocols – Modus, DNP3/DNP3.0/TCP (level 2), IEC61850 and IEC60870
Expandable Modular I/O – analog and digital I/O for up to 26 additional channels
PLC Functionality – provides up to 64 programmable setpoints
16GB On-Board Memory – for extensive energy profiling and power quality event recording
Seamless Integration – with SATEC ExpertPower, DNP and other 3rd party platforms
Power Quality – recording of harmonics, crest factor, k-factor and event capture of sags/swells
Economical – exceptional functionality
"With the continuing addition of solar, other renewable resources, and battery storage in the utility distribution system and in commercial/industrial facility power networks, there is a growing need for DC metering," said Eric Lambert, SATEC's Tech Services Director. "The ability of the new PRO Series to accommodate both traditional AC metering – as well as DC – offers a cost-effective and highly adaptable solution."
A comprehensive data sheet and informative brochure are available online.
About SATEC, Inc. (www.satec-global.com)
As a global leader with more than three decades of expertise in development of energy management and efficiency technologies, we are committed to empower consumers with flexible, scalable energy intelligence solutions focused on delivering business intelligence that drive energy efficiencies and improve reliability across multiple user applications worldwide while contributing to a sustainable planet.
Editorial Contacts:
Juan Diaz, VP
SATEC, Inc.
908.686.9510
[email protected]
Greg Evans, P.E., Account Executive
WelComm, Inc.
858.633.1911
[email protected]