New Resettable Fuses Holds Current up to 9A
Press Release Summary: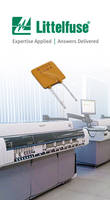 Available with balance voltage rating of 30V
Provides overcurrent protection for applications where space is premium and resettable protection is expected
---
Original Press Release:
Littelfuse 30V RUEF Series Radial PTC Resettable Fuses in Stock at TTI
Fort Worth, Texas -- January 11, 2022 -- TTI, Inc., a leading specialty distributor of electronic components, has stock for immediate shipment of multiple values of Littelfuse RUEF Series Radial Leaded Polymer Positive Temperature Coefficient (PPTC) Resettable Fuses. Also referred to as PTCs, the RUEF Series provides overcurrent protection for applications where space is at a premium and resettable protection is desired. Littelfuse PolySwitch radial-leaded devices represent the most comprehensive and complete set of PPTC products available in the industry today. The RUEF Series features a balance of voltage rating (30V) and hold current (up to 9A).
To learn more, visit Littelfuse RUEF 30V Radial-Leaded PTC Resettable Fuses at TTI.
About TTI
TTI, Inc., a Berkshire Hathaway company, is an authorized, specialty distributor of electronic components. Founded in 1971, the emphasis on a broad and deep product portfolio, available-to-sell inventory and sophisticated supply chain programs has established TTI as a distributor of choice to manufacturers in the industrial, defense, aerospace, transportation, medical and communications sectors worldwide. TTI and its wholly owned subsidiaries, the TTI Family of Specialists, Mouser Electronics, Sager Electronics and the Exponential Technology Group employ over 7,300 people in more than 136 locations throughout North America, South America, Europe, Asia and Africa. Globally, the company maintains over 3 million square feet of dedicated warehouse space in 30 distribution centers, housing over 850,000 component part numbers. For more information about TTI, visit www.tti.com
About Littelfuse
Littelfuse (NASDAQ: LFUS) is a global manufacturer of leading technologies in circuit protection, power control and sensing. Sold in over 150 countries, our products are found in automotive and commercial vehicles, industrial applications, data and telecommunications, medical devices, consumer electronics and appliances. Our 12,000 worldwide associates partner with customers to design, manufacture and deliver innovative, high-quality solutions, for a safer, greener and increasingly connected world - everywhere, every day. Learn more at Littelfuse.com.
More from Electronic Components & Devices