New Removable Orange Threadlocker Comes with Drip-Free Gel Formulation
Press Release Summary: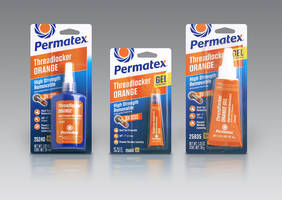 Available in liquid and gel formulations with 6 ml. tube, 10 ml. bottle, and 36ml. squeeze tube sizes
Ensures liquid reliability without drips, globs, mess or waste and is ideal for overhead, vertical, and hard-to-reach applications
Offers 3X strength of blue threadlocker and is for use in high vibration applications
---
Original Press Release:
Permatex Adds New Sizes and Gel Formulations to Innovative, New High Strength Removable Orange Threadlocker Line
- Advanced gel formulation improves accuracy, does not drip
- New sizes offer added application choice and convenience
Solon, OH… Permatex®, a leading innovator in chemical technology for automotive maintenance and repair, now offers its innovative Permatex High Strength Removable Orange Threadlocker in a new range of application sizes and a new drip-free Gel formulation. Permatex Orange Threadlocker, the newest addition to the industry leading Permatex Threadlocker family, has been specially developed to deliver the holding power of a high strength red threadlocker with the easy removability of a medium strength blue threadlocker.
Accurate application with Gel
The new Permatex Orange Threadlocker gel allows for precise application and ensures 'liquid reliability' without drips, globs, mess or waste. The Gel Squeeze applicator assists technicians and DIYers in placing the proper amount of threadlocker material where needed. This formulation is ideal for overhead, vertical, and hard-to-reach applications. Permatex Orange Threadlocker Gel is offered in two Gel SqueezeTM applicator sizes, 5g and 35g.
New liquid sizes
Permatex High Strength Removable Orange Threadlocker is now available in a wide range of convenient sizes and applicators, including: NEW 6ml tube, 10ml bottle, and a NEW 36ml squeeze tube.
3X the strength of Blue Threadlocker
In some cases, customers may have applications that require more holding strength than a blue threadlocker, but are reluctant to use a red threadlocker because it is more difficult to remove.
This is where Permatex High Strength Removable Orange Threadlocker offers the ideal solution. It combines the strength of red threadlocker with the removability of blue threadlocker, allowing for disassembly with regular hand tools. Permatex Orange Threadlocker has 3X the strength of a blue threadlocker and is excellent for use in high vibration applications, ensuring that pieces will not loosen or back out over time.
Both the liquid and gel formulations of Permatex High Strength Removable Orange Threadlocker are suitable for use with a wide range of fasteners including case half bolts, triple tree fasteners, flywheel bolts, stator bolts, axle nuts, and transmission mounting bolts. The threadlocker can also be used in multiple indoor and outdoor applications such as power tools, lawn and garden tools, dirt bikes, manufacturing machinery, heavy-duty construction equipment and more.
Permatex is a leading manufacturer, distributor, and marketer of premium chemical products to the automotive maintenance and repair markets. Since 1909, Permatex has been an acknowledged leader in the development of innovative new products and services for the automotive aftermarket. Permatex markets a wide range of products under well-known ITW brand names such as Permatex®, Fast Orange®, Spray Nine®, The Right Stuff®, Threadlocker Gel Twist®, and Grez-Off®.
Permatex currently operates in the United States, Canada, Mexico, and the U.K. and exports products to more than 85 countries around the world. North American operations include a headquarters and state-of-the-art manufacturing, distribution, and technical center in Solon, OH.
Permatex is a division of ITW (Illinois Tool Works Inc.), a US based, NYSE listed corporation, founded in 1912. ITW is a Fortune 200 diversified manufacturing company.
For more information, contact:
Paco Agrafojo
Email: paco.agrafojo@permatex.com
Phone: (860) 543-7527
More from Cleaning Products & Equipment