New Remote Support Platform is Designed for Remote Analytics and Diagnostics
Press Release Summary: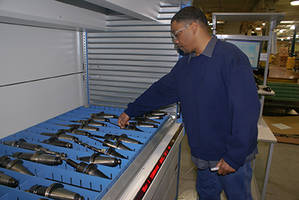 Remote Support Platform from Kardex Remstar consists of remote assistance and remote analytics. The remote assistance option allows remote management and diagnostic for reduced downtime whereas the analytics enable the user to access machine data remotely via Web browser.
---
Original Press Release:
Kardex Remstar Introduces New Remote Support Platform at IMTS 2018
Kardex Remstar will display a Shuttle XP Vertical Lift Module at IMTS 2018, September 10-15 in Chicago. In addition, a demonstration of the new Remote Support platform will be available.
WESTBROOK, MAINE (PRWEB) MAY 30, 2018
From storing small parts to large, heavy tools, Kardex Remstar dynamic storage solutions allow an organization the ability to keep inventory all in one place. The Shuttle XP Vertical Lift Module (VLM) integrated with Power Pick Global inventory management software and Pick-to-Light technology, will be on display at IMTS 2018 in Chicago, IL September 10-15 in booth #431617 at McCormick Place. In addition, the intralogistics solution provider will demonstrate the new Remote Support Platform for remote analytics and diagnostics.
There are two features included in the new Remote Support platform. First, Remote Assistance, which manages remote diagnostics, allowing for simple maintenance requests to be performed remotely instead of onsite reducing downtime. Secondly, Remote Analytics, which gives users access to machine data anywhere via a Web Browser. This analysis tool guarantees a high level of process reliability for storage unit operations.
The Shuttle XP VLM ranges from light duty storage in the 250 model to heavy duty storage in the Shuttle XP 1000 model, boasting a 2,204 lbs. (1000 kg) capacity per tray. The Shuttle XP 1000 can also be integrated with a crane mounted to the load profile. It can be maneuvered into position in front of the access opening to pick up heavy items from the floor or from a pallet. The Shuttle XP VLM can also be equipped with new Access Ready lights. These lights tell the operator when the tray is in place and ready for picking, making operator training fast and efficient.
Integrating dynamic storage into material flow processes can have a positive, quick and direct impact on an organizations profit. Systems are often easily cost justified on improved productivity, recovered floor space and increased pick accuracy.
All Kardex Remstar dynamic storage solutions operate on the "goods to person principle". By delivering items directly to the operator, travel and search time commonly associated with shelving is drastically reduced. Implementing automated storage can increase productivity up to 2/3. More often, facilities are choosing to maintain current labor levels when implementing dynamic storage solutions to increase productivity – resulting in higher picking capacities without additional labor.
By utilizing the vertical space from floor to ceiling, both vertical storage systems eliminate wasted space commonly found in shelving systems to recover up to 85% floor space. Allowing organizations to create floor space for additional manufacturing or other revenue generating activities can be easily cost justified. Equipped with pick-to-light technology, a TIC (transaction information center) is mounted at the access opening to direct the operator to the exact location to pick from displaying the part number and quantity to pick, increasing accuracy to 99.9%.
Kardex Remstar, LLC, a company of the Kardex Group is a leading provider of automated storage and retrieval systems for manufacturing, distribution, warehousing, offices and institutions. For information about our dynamic storage solutions, call 800-639-5805, visit http://www.kardexremstar.com or stop by and see us in booth #431617 during IMTS 2018.
Contact Information
Chelsea Tarr
Kardex Remstar, LLC
http://www.kardexremstar.com
+1 207-591-3172
More from Agricultural & Farming Products