New Reed Relays Provide Input/output Isolation Voltage of 2500 VRMS
Press Release Summary: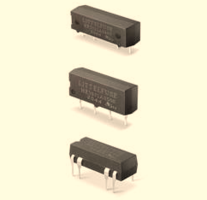 Capable of switching speeds up to 1 kHz and billions of operations
Offered in hermetically sealed miniature package and full galvanic load disconnect
Ideal for security systems, automatic test equipment, instrumentation and telecom applications
---
Original Press Release:
New Littelfuse Reed Relays Offer Reliable Switching of AC and DC Small Signal to High Voltage Loads
Hermetically sealed switching solution for systems requiring no-leakage current, or operating in harsh environments requiring galvanic insulation

Chicago, February 2, 2021 — Littelfuse, Inc. (NASDAQ: LFUS) a global manufacturer of leading technologies in circuit protection, power control, and sensing, today introduced an expanded reed relay product portfolio that extends voltage capabilities to include AC ratings, supports AC or DC loads up to 300 Vdc, and provides input/output isolation voltage 2500 VRMS.
These miniature reed relays are available in single In-line (SIL) and dual-in-line (DIL) packages.
Typical applications for the reed relays include position and speed sensing in a broad array of markets:
Security systems
Fire and safety
Instrumentation
Telecom
Automatic test equipment (ATE)
Process control systems
"The expansion of the Littelfuse reed relay portfolio is a reflection of our commitment to meeting our customers' needs through technology and product development," said Boris Golubovic, Vice President, Marketing and Strategy at Littelfuse. "Reed relays are uniquely suited for a wide range of applications, including process automation, and rapidly growing building technologies segment."
The new reed relays offer these key benefits:
Capable of switching speeds up to 1 kHz and billions of operations.
Hermetically sealed switch contacts are unaffected by and do not affect their external environment.
Lower power coil consumption than competing electromechanical devices.
Very low circuit board space requirement due to miniature DIL and SIL packages.
No leakage in the off state, making them an ideal choice for battery-powered devices.
How It Works
A reed relay combines a reed switch with a coil into one package to serve as a smaller, more power-efficient alternative to other types of relays. In comparison to solid-state relays (SSRs), reed relays provide no leakage current and higher robustness against transient spikes. Reed relays also have a much longer life, smaller size, higher switching speeds, and lower power consumption than electromechanical relay switches.
Reed relays are used for switching of loads with up to 2500 V isolation between the low-voltage control signal and load circuit. Reed relays come in a hermetically sealed miniature package and offer full galvanic (zero leakage current) load disconnect that provides the high reliability needed in harsh environment applications to switch AC/DC signals and loads. It is also well-suited for switching analog signals in test and measurement, audio, and high-frequency applications.
Availability
The HE3300 and HE3600 SIL and HE700 DIL Reed Relays are available in bulk in quantities of 2,000. Sample requests may be placed through authorized Littelfuse distributors worldwide. For a listing of Littelfuse distributors, please visit Littelfuse.com.
For More Information:
Additional information is available on the Reed Relay product pages. For technical questions, please contact Julius Venckus, Global Product Manager, jvenckus@littelfuse.com.
About Littelfuse
Littelfuse (NASDAQ: LFUS) is a global manufacturer of leading technologies in circuit protection, power control, and sensing. Serving over 100,000 end customers, our products are found in automotive and commercial vehicles, industrial applications, data and telecommunications, medical devices, consumer electronics, and appliances. Our 11,000 worldwide associates partner with customers to design, manufacture and deliver innovative, high-quality solutions, for a safer, greener, and increasingly connected world — everywhere, every day. Learn more at Littelfuse.com.
Media Contact:
Kristina Hodgson
Global Marketing & Communications Manager
Electronics Business Unit, Littelfuse, Inc.
khodgson@littelfuse.com
linkedin.com/in/kristinahodgson/
More from Thermal & Heating Equipment