New RDV V-Plow with Powder-coated or Stainless Steel Blades
Press Release Summary: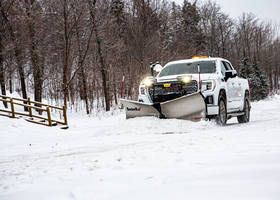 Constructed of high-strength and low-alloy steel
Available in 7' 6" wide as a straight blade or 6' 9" wide in V mode
Ideal for cleaning up small jobs and spaces
---
Original Press Release:
SnowEx® Launches Fully Featured V-Plow for Half-Ton Trucks
Madison Heights, Mich. – The new SnowEx® RDV™ V-plow includes many of the features found on heavy-duty plows, but is specifically designed for half-ton trucks. Constructed of high-strength, low-alloy steel, the RDV V-plow is stronger and lighter than conventional steel and configures to varying vehicle heights for optimum performance on some of the most popular truck models, including GMCÒ Sierra 1500, ChevroletÒ Silverado 1500, FordÒ F-150, RAMÒ 1500 and ToyotaÒ Tundra.
Available with either powder-coated or stainless steel blades, the RDV V-plow is 7' 6" wide as a straight blade or 6' 9" wide in V mode, making it the ideal size for cleaning up smaller jobs and spaces. Double-acting angle cylinders allow the operator to adjust the wings independently or to lock them together for efficient straight-blade operation and clean back-dragging. Trip edges are included to protect the equipment and operators if an unseen obstacle is struck.
The innovative AutomatixxÒ power-assisted attachment system offers incredibly quick and easy plow hook-up. The system includes self-aligning, removable receiver brackets that provide additional ground clearance when setting up. Further simplifying the process, Automatixx allows the plow to be connected from one side of the truck.
Customers can choose between LED or dual halogen STORM SEEKERÔ headlamps. The LED headlamps feature EdgeViewÔ technology, providing a full 180 degrees of light from plow edge to plow edge and producing up to twice the light output of traditional halogen bulbs. The dual halogen headlamp option also offers improved brightness and reach with better low- and high-beam performance than traditional halogen headlamps.
Other standard features include a direct lift system to provide full range of motion for stacking and transport. The RDV V-plow is 27" high in the center and 33" high at the outer edge.
Accessories include a 10" rubber deflector, shoe assembly kit, AR400 steel curb guard kit, cast iron curb guard kit, ½" steel cutting edge, 1" poly cutting edge, blade stop kit, back drag edge, and the Scrape MaxxÔ down-force kit. The RDV V-plow blades are pre-punched for simplified installation of many accessories.
SnowEx Snow and Ice Control Equipment is proud to be a part of Douglas Dynamics, North America's premier manufacturer of vehicle attachments and equipment and home to the most trusted brands in the industry. For more than 70 years, the Company has been innovating products that not only enable people to perform their jobs more efficiently and effectively, but also enable businesses to increase profitability. For more information, visit www.snowexproducts.com.
Contact:
Jeff Kopp
414-362-3832
[email protected]
Jon Thorp
701-492-9194
[email protected]