New Quadrant Shifting System Increases Simulation Treatment Rate
Press Release Summary: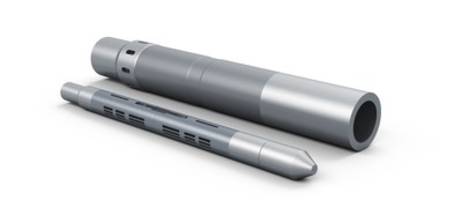 The Quadrant™ Shifting System consists of shifting tool and closeable sliding sleeves that maximizes reservoir contact. The system is designed for activating sliding sleeves without a packer element. The unit's design minimizes wellbore drag and reduces operational risk in long laterals. Quadrant system features a horizontal well with measured depth of more than 2,750 m.
---
Original Press Release:
Packers Plus Redefines Coiled Tubing Completions with Innovative New System
CALGARY, July 19, 2018 /CNW/ - The latest innovation from Packers Plus Energy Services Inc. brings simplicity and reliability to operators running coiled tubing activated completion systems. The Quadrant™ system combines a simplified shifting tool and closeable sliding sleeves to maximize reservoir contact and improve stimulation, especially in extended reach laterals.
The Quadrant shifting tool is specially engineered to activate the sliding sleeves without a packer element. This unique design reduces wellbore drag and reduces operational risk in long laterals, while enabling operators to deliver high-rate stimulation treatments with precise placement for a more effective reservoir treatment.
Quadrant was first run by an operator in Western Canada. The horizontal well had a measured depth of more than 2,750 m (9,000 ft) and every sliding sleeve in the system was successfully shifted for production testing.
"Quadrant is a step-change in coiled tubing completions," said Packers Plus President, Ian Bryant. "The unique design developed by our engineering team provides oil and gas operators with a more efficient method for stimulation that should ultimately lead to increased production."
The Quadrant system is part of the Packers Plus TREX™ Cemented Product Line, a suite of high-quality technologies designed to increase the efficiency and reduce the operational risk in cemented completions for operators worldwide. For more information, visit packersplus.com/solutions/cemented-liner.
About Packers Plus
Packers Plus is an industry leader in designing and manufacturing lower completions solutions for a variety of technically challenging applications. Known for its innovative, high-quality and responsive style, the privately held company has run over 17,500 completion systems, accounting for over 270,000 fracture stages since it started operations in 2000. Today, Packers Plus has employees around the world, maintaining an influential role in key markets and remaining true to its roots - innovation - enabling it to be one of the best in the industry. Learn more at packersplus.com.
CONTACT: Ian Bryant, President, Packers Plus Energy Services Inc., ian.bryant@packersplus.com, +1 (281) 587-7446; Steve Macleod, Manager, Technical Marketing, Packers Plus Energy Services Inc., steve.macleod@packersplus.com, +1 (587) 293-2020
Web Site: www.packersplus.com
More from Packaging Products & Equipment