New PurgEye 100 Inert Shielding Gas Monitor Comes with Vacuum-Sealed Leak-Tight Probe Assembly
Press Release Summary: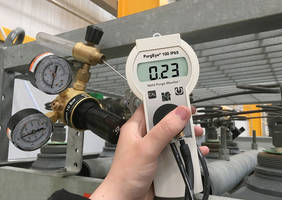 The PurgEye® 100 Inert Shielding Gas Monitor is designed for achieving zero colour, oxide free welds in stainless steel and reads accurately from 20.94% atmospheric oxygen levels. The unit is rated to IP65 standards and features leak-tight push buttons, auto calibration options, wrist/neck strap and tripod mount long life sensor. This monitor is equipped with an easy to read 24 mm high LCD screen with low battery and low sensor icon.
---
Original Press Release:
Inert Shielding Gas Monitor for Stainless Steel Welding
Inert shielding gas is used to protect high integrity welds from oxygen and water vapour during TIG (GTAW) and Plasma (PAW) welding processes.
When welding tanks, vessels, chambers and pipes, the most cost effective inert gas used for shielding is argon. As argon is heavier than air, it displaces the air containing oxygen and water upwards and out of a vent tube which can be fed to a Weld Purge Monitor®.
This process, called Weld Purging, will ensure oxide free, metallurgically sound welds in critical joints made of stainless steel, titanium and other refractory metals.
During stainless steel welding, the oxygen content must be purged down to a level lower than 100 ppm. Titanium and other sensitive materials may have to be purged down to 20 parts per million to obtain oxide free joints. Measuring the oxygen level in shielding gas is therefore crucial.
The low cost, hand held, battery operated PurgEye® 100, designed and developed by Huntingdon Fusion Techniques HFT® is perfect for obtaining zero colour, oxide free welds in stainless steel, reading accurately from atmospheric oxygen level (20.94%), right down to 100 ppm (0.01%).
Davina Urquhart, City College AND Senior Welding Engineer at TransWeld Services Ltd recently said: "I am a huge fan of the Huntingdon products and have talked others over the years into using them. The purge meters are second to none. I own and use regularly my PurgEye® 100 for stainless steels and my PurgEye® 300 for titanium. In fact I think somewhere I still have my original Argweld® MKV monitor from the 1970's. Excellent product guys!"
The PurgEye® 100 is IP65 rated and comes with leak-tight push buttons, auto calibration features, vacuum-sealed leak-tight probe assembly, wrist/neck strap and tripod mount long life sensor.
The extra long life sensor provides approximately 18 months life before it requires changing. A low sensor indicator will appear on the screen, warning that a new sensor is required. Once that icon appears, it provides the user with adequate time to obtain a new sensor, which can be fitted like changing a battery and the monitor can be re-calibrated easily by the user.
With a clear, easy to read LCD screen, the PurgEye® 100 boasts a 24 mm high display with features such as a low battery icon as well as the low sensor icon. When the monitor is not in use, an automatic sleep mode activates to conserve battery life.
The Weld Purge Monitor® was invented by HFT® in the 1970's and with over 40 years of innovation, design and manufacturing experience, the company now has a Family of PurgEye® Weld Purge Monitors® to measure oxygen levels from atmospheric content (20.94%) down to 1 ppm (accurate to 10 ppm).
Ron Sewell, Chairman for HFT® said: "All of Huntingdon Fusion Techniques HFT®'s Weld Purge Monitors® and Inflatable Tube, Pipe and Pipeline Weld Purging Systems are manufactured in the UK. We do not sacrifice on quality. We guarantee to help you achieve zero colour welds, time and time again."
It is important not to use low cost oxygen analyzers or other oxygen safety monitors as they are calibrated for accuracy at ambient conditions and therefore not suitable for measuring purge levels at 0.01% as the PurgEye® 100 does.
PurgEye® 100 video can be viewed at: https://youtu.be/quw_xtSZDAw.
Huntingdon Fusion Techniques HFT® have a Worldwide Exclusive Distributor network, which can be found at www.huntingdonfusion.com.
For further information, please contact: 
Michaela Reay, Marketing Associate, Huntingdon Fusion Techniques HFT®
Press: michaelareay@huntingdonfusion.com
Sales: hft@huntingdonfusion.com
www.huntingdonfusion.com
Huntingdon Fusion Techniques HFT® are Weld Purging Innovators, Designers and Manufacturers with offices located globally.
Huntingdon Fusion Techniques HFT® invented the 'Weld Purge Monitor®' in 1975 and own all international intellectual property rights and registered trademarks.
Weld purging is the act of removing, from the vicinity of the joint, oxygen, water vapour and any other gases or vapours that might be harmful to a welding joint. Such gases may combine with the metal to form undesirable compounds that may reduce corrosion resistance or may be instrumental in creating cracks or other structural defects in metals.
More from Sensors, Monitors & Transducers