New Proximity Sensors with Integrated Health Monitoring Functionality
Press Release Summary: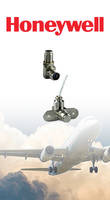 General aerospace proximity sensors are used in less harsh areas of application
Harsh aerospace proximity sensors are configurable, non-contact and hermetically sealed devices
Can sense presence or absence of a target in harsh duty aircraft applications
---
Original Press Release:
Honeywell Aerospace Proximity Sensors in Stock at TTI
Fort Worth, Texas – August 20, 2021 – TTI, Inc., a leading specialty distributor of electronic components, now has available inventory on Honeywell's General Aerospace Proximity Sensors (GAPS) and Harsh Aerospace Proximity Sensors (HAPS).
These are two new platforms of proximity sensors that were previously known as the IHM Series. Both platforms incorporate Honeywell's patented Integrated Health Monitoring functionality, however the products have some technical differences that allow them to be used in various aerospace applications. GAPS can be used in less harsh areas of application with some differences of electrical and environmental characteristics when compared to HAPS. HAPS Aerospace Proximity Sensors are configurable, non-contact, hermetically sealed devices designed to sense the presence or absence of a target in harsh duty aircraft applications.
To learn more about Honeywell's range aerospace grade proximity sensors, visit Honeywell GAPS & HAPS at TTI.
About TTI
TTI, Inc., a Berkshire Hathaway company, is an authorized, specialty distributor of electronic components. Founded in 1971, the emphasis on a broad and deep product portfolio, available-to-sell inventory and sophisticated supply chain programs has established TTI as a distributor of choice to manufacturers in the industrial, defense, aerospace, transportation, medical and communications sectors worldwide. TTI and its wholly owned subsidiaries, the TTI Family of Specialists, Mouser Electronics, Sager Electronics and TTI Semiconductor Group employ over 7,300 people in more than 136 locations throughout North America, South America, Europe, Asia and Africa. Globally, the company maintains over 3 million square feet of dedicated warehouse space in 30 distribution centers, housing over 850,000 component part numbers. For more information about TTI, visit www.tti.com
About Honeywell
Honeywell Safety and Productivity Solutions (SPS) provides products, software and connected solutions that improve productivity, workplace safety and asset performance for our customers across the globe. We deliver on this promise through industry-leading mobile devices, software, cloud technology and automation solutions, the broadest range of personal protective equipment and gas detection technology, and custom-engineered sensors, switches and controls.
Honeywell (www.honeywell.com) is a Fortune 100 software-industrial company that delivers industry specific solutions that include aerospace products and services; control technologies for buildings and industry; and performance materials globally. Our technologies help everything from aircraft, buildings, manufacturing plants, supply chains, and workers become more connected to make our world smarter, safer, and more sustainable. For more news and information on Honeywell, please visit www.honeywell.com/newsroom.
Contact This Company Download Spec Sheet
More from Electrical Equipment & Systems