Waterjet Cutters and Cutting Machinery
New ProtoMAX Abrasive Waterjet System is Suitable for Low-Volume Cutting Applications
Press Release Summary: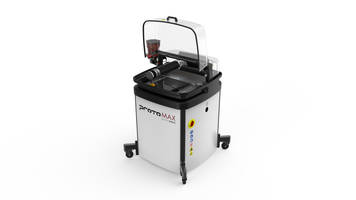 Omax's ProtoMAX Abrasive Waterjet System is used in prototyping and cutting applications with material thickness around 1 in. The system is designed for small job shops, engineering classrooms, makerspaces and personal use, large shops and fabricators.
---
Original Press Release:
OMAX to Showcase Versatility of Waterjet Cutting Technology at IMTS
KENT, Wash., May 7, 2018 – At IMTS 2018, OMAX Corporation will highlight how the latest advancements in abrasive waterjet cutting machine technology meets a variety of specific manufacturing and educational needs. The company will demonstrate these systems in booth #236222 and in the Smartforce Student Summit, where students and teachers can explore new technologies through hands-on learning opportunities.
Throughout the show, OMAX will demonstrate its new ProtoMAX® personal abrasive waterjet system, a compact, self-installed cutting system ideally suited for prototyping and relatively low-volume cutting of almost any material around 1" thick. The system brings all the versatility benefits of large abrasive waterjet cutters together in a sleek and economic package that is perfect for small job shops, engineering classrooms, makerspaces and personal use. It is also a useful addition for large shops and fabricators that need occasional waterjet capabilities to complement their other cutting systems. 
Visitors to OMAX's booth will also experience live cutting demonstrations on several other high-productivity cutting solutions, including the MAXIEM 1530 with A-Jet, a MicroMAX and an OMAX 80X Series with Tilt-A-Jet. All of these showcase the company's wide selection of sizes and specifications and will show how simple and fast it is to cut 3D parts, component features smaller than 300 microns or taper-free parts from various material types and thicknesses without the need for any tool changes.
OMAX software engineers, certified technicians and application specialists will also be available in the booth for one-on-one discussions on programming with the OMAX Intelli-MAX Software Suite, special software features, cutting applications and maintenance best practices. Visitors will also learn about the world-class training and support the company provides in-person, online and over the phone.
Another highlight at the show will be a presentation by OMAX machine shop supervisor Dan DeWaal, who will discuss how abrasive waterjet cutting fits into the overall manufacturing process as part of The IMTS Conference program on Monday, September 10 in room W192-A. As a complementary machining process, waterjet cutting offers significant cost savings when brought into many manufacturing environments, a fact DeWaal will back up with detailed cost justifications.
About OMAX Corporation
Based in Kent, Washington, OMAX Corporation is the global leader in advanced abrasive waterjet systems that cut virtually any material and thickness with unmatched speed and accuracy. Owner of the OMAX and MAXIEM brands, the company provides a comprehensive selection of JetMachining Centers that feature intuitive software controls and incorporate the most efficient pump technology available. In developing its machines, the company designs, manufactures, assembles and tests components as a complete system to ensure optimum performance. The company also has the most comprehensive service and support network in the waterjet industry to keep its customers ahead of the manufacturing curve. For more information, visit OMAX.com or connect with the company on Facebook, Twitter, LinkedIn and YouTube
MEDIA CONTACTS:
OMAX® Corporation
Stephen Bruner
Vice President of Marketing
253.872.2300 | stephen.bruner@omax.com
or
dgs Marketing Engineers®
Chuck Bates
Director of Public Relations
317.813.2230 | bates@dgsmarketing.com
More from Fluid & Gas Flow Equipment