New Products at Infocomm17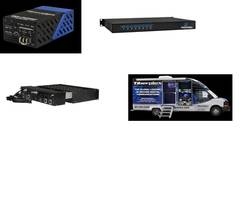 Infocomm 2017 is approaching quickly and FiberPlex Technologies has some pretty exciting things to show you this year! If you haven't already registered, follow this link to register now, and if you use code FIB114 your Exhibit Hall Pass will be free.
First, in our booth (#4343) will be our fully functional (and now world famous) Demo Truck. You will be able to see many of our products set up in real life situations communicating over a mile fiber cable. It will be a great opportunity to have those mental light bulbs go off and finally find solutions to some of those hard to solve problems.
2-Wire Audio Conversion
We are really excited to announce our new 2-wire solution, the TD-7282. This innovative unit will allow you to create point-to-point or daisy chained connections over fiber with your current inventory of 2-wire party-line intercom systems such as RTS and ClearCom. Different systems can be connected on each end of the fiber and the TD-7282 will handle the translation or, you can even pair it with our popular TD-7280 to create a 2-wire to 4-wire conversion.
Passive Wave Division Mux
Expanding our line of fiber multiplexers is our WDP16 and WDP8 passive wavelength division multiplexers. These low cost units allow you to combine 16 or 8 channels of bi-directional optical signals in to a single pair of fiber. The WDP16 and WDP8 are a great option to expand your fiber cable plant when you have control over the wavelength of your connecting equipment. No power supply means maximum reliability and the passive nature of the units allows tricky analog RF optical signals to pass right through.
Mission Critical Modular Rack Panel
The RP2 is yet another client driven solution. We took the flexibility of our wildly popular TDP modular I/O tray for the TD series and ported the concept to our rugged, mission critical FOI line. This 16 position modular I/O panel bolts on to the RMC-2101 creating a completely enclosed ruggedized chassis while maintaining the active cooling and redundant power of the RMC-2101.
June 14-16 2017
ORLANDO, FL
Visit us at Booth #4343!
Use VIP Code FIB114 for a Free Exhibits Pass!
Click here to register now: https://registration.experientevent.com/ShowINF171/Flow/ATTENDEE/?Mkg=FIB114#/registrant//Member/
FiberPlex Technologies, LLC
10840-412
Guilford Rd
Annapolis Junction, MD 20701 USA
More from Software