Power Transmission and Timing Belts
New PowerGrip GT 4 Belt Features High-Power Carrying Capacity, Wide Temperature Range and Improved Chemical Resistance
Press Release Summary: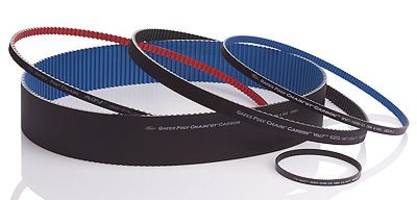 Available in 8mm and 14mm tooth pitches with lengths exceeding 6.5 meters
Improves the ability to fit a belt drive into smaller spaces or to utilize more torque
Belt construction replaces chloroprene with a special Ethylene Elastomer (EE) formulation which delivers high performance
---
Original Press Release:
Gates Introduces Advanced High-Torque Synchronous Belt for Industrial Applications
PowerGrip GT4 leverages industry-leading materials science and process engineering capabilities
Denver, Feb. 19, 2019 /PRNewswire/ -- Gates (NYSE: GTES), a leading global provider of application-specific fluid power and power transmission solutions, introduces the PowerGrip® GT®4 belt, a newly designed ethylene elastomer (EE) high-torque synchronous belt for industrial markets.
The PowerGrip GT4 reflects Gates' dedication to innovation in materials science and process engineering. Many of the elastomer synchronous belts in the market today are made using chloroprene, a material that has performance limitations. The new Gates PowerGrip GT4 belt construction replaces chloroprene with a special EE formulation that delivers much higher performance. The company pioneered ethylene elastomer technology with its line of Micro-V® belts in automotive markets and applied that materials science technology to PowerGrip GT4 for industrial markets.
PowerGrip GT4 has the highest power-carrying capacity in the segment, a larger temperature range and improved chemical resistance. This allows for narrower drives and a broader range of applications to be served. For machine builders, this creates design flexibility and improves the ability to fit a belt drive into smaller spaces or to utilize more torque. Distributors can differentiate with a higher-performance offering and end-users running industrial drives as part of their operations experience a lower total cost of ownership. The improved performance characteristics also support additional market opportunities with the conversion of roller chain to belt drive solutions, enabling a transformation from a high-maintenance chain to a high-performance belt.
"PowerGrip GT4 extends the success we've had with the PowerGrip family of industrial belts over many years by upping the performance bar," said Tom Pitstick, CMO and senior vice president of Product Line Management for Gates. "It's right at home in heavy-duty industrial environments driving pumps, conveyor systems and other machinery where efficiency, reliability and high quality are required. PowerGrip GT4 belts eliminate the need for lubrication and maintenance, run quietly and reduce contamination risks, further extending our ability to replace traditional chain drives in key end markets."
Gates will offer a full portfolio of PowerGrip GT4 belts in 8mm and 14mm tooth pitches, and lengths exceeding 6.5 meters. Samples are available now with full-scale production beginning in North Americaand Europe in Q2 2019, with Asia to follow later in the year.
About Gates
Gates is a global manufacturer of innovative, highly engineered power transmission and fluid power solutions. Gates offers a broad portfolio of products to diverse replacement channel customers and to original equipment ("first-fit") manufacturers as specified components. Gates participates in many sectors of the industrial and consumer markets. Gates products play essential roles in a diverse range of applications across a wide variety of end markets ranging from harsh and hazardous industries such as agriculture, construction, manufacturing and energy, to everyday consumer applications such as printers, power washers, automatic doors and vacuum cleaners, and virtually every form of transportation. Gates products are sold in 128 countries across four commercial regions: the Americas; Europe, Middle East and Africa; Greater China; and East Asia and India. More about Gates can be found at www.gates.com.
Source Gates
Contact:
Ani Vattano
303.744.4821
Web Site: https://www.gates.com
Related