New PMVA Displays are Made to Custom Specifications
Press Release Summary: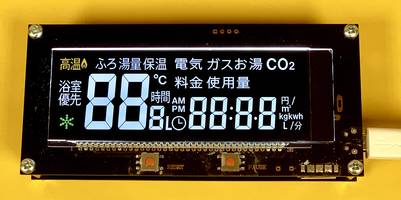 Microtips has released a new line of Passive Matrix Vertical Alignment (PMVA) displays. These displays can be custom made to customer specifications. Their features include dark black backgrounds, suitability for all backlights, high brightness and contrast, sunlight readability, and wide temperature ranges. 
---
Original Press Release:
Microtips Offers PMVA Technology for More Colorful Custom Segmented Display
Microtips Technology offers Passive Matrix Vertical Alignment (PMVA) Displays with extremely high contrast, wide viewing angle in all directions, and a wide temperature range.
All PMVA Displays are custom made for each customer's specifications. Customer can choose any size, any font, any icon, any design for their products.
PMVA is a high performance product and the low tooling costs can be a great alternate for the more expensive color TFT Displays, according to Nadim Rahman, Chief Technical Officer, Microtips Technology.
Outstanding Advantages of the PMVA Displays
 Dark black background
 Suitable for all kinds of backlight
 Extremely high brightness and contrast
 Good sunlight readability
 Wide viewing angle in all directions
 Wide temperature range
Below is a link to our YouTube video where George Van Driessche, Senior Regional Sales Manager for Microtips Technology, explains more about our PMVA Displays.
https://www.youtube.com/watch?v=pjejztxd-qA&t=12
Related