New PLC-LW Series Transformer Designed with NiZn Magnetic Core
Press Release Summary: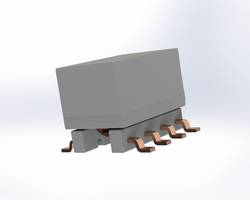 Provides minimum insertion losses on 100-120 Ohm load
Features wide operating temperature range of -40 to +125ºC
Suitable for HPGP, HPAV, HPAV2, to operate above 85 MHz
---
Original Press Release:
PREMO Launches PLC-LW-series Transformer Family for Power Line Communication
This SMD isolation transformer 1:1 have been designed for coupling/decoupling signals for power lines communication according to IEC 15118 and IEC 61851-1 for charging system communication V2G & V2V.
Premo, leader in manufacturing RFID magnetic sensors, Inductive couplers and power magnetic components completes its range of signal transformer with this SMD PLC-LW series. Providing a more competitive (low cost) product using Linear Winding versus Toroidal winding.
Main features for PLC-LW-Series design with NiZn magnetic core provide the minimum insertion losses in a wide frequency band 1-30MHz and able for communication up to 100MHz:
SMD coil former technology (reduced size, smaller than toroid version)
Fully automatized production to answer to EV/PHEV global development (millions of parts)
Ultra-low insertion losses (< 1dB) on 100-120 Ohm load (2-30MHz PLC equivalent network load)
Highly reproducible performances (better than toroidal solutions)
Wide temperature range (-40 t0 +125ºC)
UL94 and ROHS materials
13" Tape&Reel packaging
AEC-Q200 Automotive qualified
Suitable for HPGP (HomePlug Green PHY, 10Mbps), HPAV (80Mbps), HPAV2 (Gbps), to operate above 85MHz.
HPGP is an innovative variant of HomePlug powerline communications technology. HomePlug Alliance certified, fully interoperable with IEEE1901/HPAV, Operating frequency (2 – 28 MHz) is well above switching noise generated by EV charging equipment, low power, low cost, robust performance @ 10 Mbps.
PLC-LW-series are safety solution (isolated coupling transformer) with two different configurations for matching to a wide range of PLC modem shipset such as Qualcomm, ST, Maxim, NXP, etc.
Samples will be available by Q1/2021.
Download full datasheet from https://www.grupopremo.com/plc-transformers/2144-smd-signal-transformer-for-hpgp-plc-moderns-9h-plc-lw-001.html
About PREMO
PREMO is a Spain-based company engaged in the development, manufacture, and sale of electronic components with a special focus on the key enabling technologies of the 4th Industrial Revolution: IoT, M2M, VR, Connected and Electric Vehicles.
Our product portfolio includes RFID antennas (worldwide leader), AR/VR Motion Tracking Sensors, power transformers, inductors & chokes, current sensors, EMC filters, and PLC components.  In addition to our broad range of standard, off-the-shelf products, PREMO also designs custom solutions to fit customer requirements, based on the latest technologies to help your systems be more efficient.
Over 1200 employees with 5 design centers and 3 production locations (Morocco, China & Vietnam) and an extensive sales network allow PREMO to have a global presence in more than 36 countries to meet our customers' specific needs.  With more than 50 years of being a preferred supplier because of our strong commitment to business excellence, engineering support, reliable delivery and the quality of our products, Premo is well-positioned to continue to be a world leader in magnetic components for many years to come.
www.grupopremo.com
Press Contact:
Rocío Arrupe
Rocio.Arrupe@grupopremo.com
PREMO S.A.
Severo Ochoa, 47
Parque Tecnológico de Andalucía
29590 Campanillas
Málaga, Spain
T.: +34 951 231 320 - Ext 6
F.: +34 951 231 321
More from Electronic Components & Devices