New PL-81990 HPC Supports LGA3647 Intel Skylake-SP/Purley Xeon Scalable Series Processor
Press Release Summary: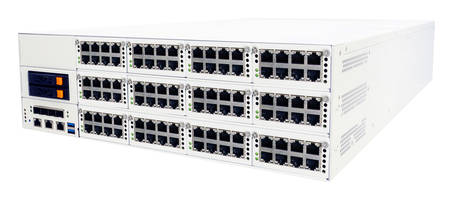 Maximum memory capacity of up to 768GB and supports 6 channels of DDR4 register ECC DIMM
Coupled with Intel's C624 PCH chipset and supports optional IPMI card
Applications include artificial intelligence, scientific computing and IT network data stream analytics
---
Original Press Release:
WIN Enterprises Introduces 3U Rackmount HPC with Dual Intel Skylake-SP Xeon Processors
April 23, 2019 WIN Enterprises, Inc., a leading designer and manufacturer of custom solutions for OEMs, announces the PL-81990, a high performance computer (HPC) featuring dual Intel Skylake-SP (aka, Purley Platform) processors in a 3U rackmount networking system. The Skylake-SP processors represent a significant modification in Intel's microarchitecture from previous design. Processing formerly handled by linking cores with a ring design is now handled by a much faster mesh architecture to distribute the processing tasks. The cache system, too, has been redesigned to reduce processing latency. 
The dual Xeon scalable series processors each have 28 processing cores to deliver high performance. The CPU's are coupled with Intel's C624 PCH chipset to formulate a new generation platform to better support applications from cloud data centers, HPC clusters, IT networking, and storage. In addition the platform supports AVX-512 instructions and Ultra Path Interconnect (UPI) of up to 10.4 GT/s.
Features
Supports Intel® Skylake-SP/Purley Xeon® scalable Series Processor, LGA3647
Supports Max 768GB DDR4 2400/2666MHz system memory
Max support of 12 x PCIe X8 slots for expansion LAN modules provides up to 96 GbE Copper/Fiber ports
Supports optional IPMI card
Redundant power for high reliability
Applications
Cloud-based storage, routing and analytics
IT network data stream analytics
Scientific computing
Artificial Intelligence
The PL-81990 supports 6 channels of DDR4 register ECC DIMM (up to 2666 MHz) and maximum memory capacity of up to 768GB. With 96 PCI Express lanes, the PL-81990 supports up to 12 NIC modules and multiple Ethernet module bays for flexible port configurations, including,
1/10/40 Gigabit fiber, Gigabit copper with optional bypass function. The maximum Ethernet ports supported is to 96 GbE.
​
The robust IO elements of PL-81990 include two management Ethernet ports: one for management and one for an optional IPMI function, a console port, two USB 3.0 ports, LEDs for power/HDD/2x GPO. The PL-81990 supports two front-swappable 2.5" SATA HDDs/SSDs and onboard CompactFlash/m-SATA/M.2 slot for basic network storage applications.
WIN Enterprises will customize the MB-81990 based on the customer's specific market needs.
About WIN Enterprises
WIN Enterprises designs and produces advanced computing systems that are marketed worldwide. Products include single-board computers, platform appliances in both desktop and rack-mounted systems. Products are supported by a strong array of integrated services that are offered across the design and manufacturing functions.
For more information, contact WIN Enterprises at +1 (978) 688-2000 or email WIN at sales@win-ent.com. 
Press contact:
John Hill, Marketing Director
WIN Enterprises
978-688-2000 x14
Product Page: https://win-ent.com/Epic/mb-83970
More from Electrical Equipment & Systems