New PL-50180 Industrial Panel PC is IP65 Rated
Press Release Summary: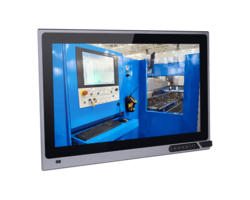 Feature Intel ® Core™ processor with fanless design
Available in 15 in., 17 in. and 19 in. panel size options with resistive and capacitive touch screens
Supports adaptive display platform and has -20 to 50°C operating temperature
---
Original Press Release:
7th Gen Intel® Core™ Processor Modular-Designed Industrial Panel PC
November 16, 2020 -- WIN Enterprises, Inc., a leading designer and manufacturer of custom solutions for OEMs and a member of the Intel® Internet of Things (IoT) Solutions Alliance, announces the PL-50180, a high performance Industrial Touch Screen PC. The device features robust processing and connectivity from production Edge to the Cloud with Serial, GbE LAN, and USB ports. Applications for the unit span applications from Factory Automation/IoT, CNC Machine Control, and Factory Line Control. VESA and/or Panel mounting are supported.
Features
Supports Adaptive Display Platform
Multiple Panel Sizes options at 15", 17" & 19" with Resistive & Capacitive Touch Screens
Intel ® Core™ Processor with Fanless Design
Supports 9~36V Power Input
IP65 Front Panel Protection
Operating Temperature: -20 to 50°C
About WIN Enterprises
WIN Enterprises is a product development company that designs and manufactures customized x86-based embedded systems and motherboards. Founded in 1991, WIN Enterprises develops reference designs for the leading microprocessor companies, as well as customized set-top boxes, rack-mounted appliances, and other electronic products for OEM customers. WIN Enterprises is an Affiliate Member of the Intel® Intelligent Systems Alliance, a global ecosystem of 200+ member companies that provide the performance, connectivity, manageability, and security developers need to create smart, connected systems. With facilities in the United States, Taiwan, and China, WIN Enterprises enables cost-effective design, manufacturing, and fulfillment services for corporations around the world. For more information contact WIN Enterprises at +1 (978) 688-2000 or email sales@win-ent.com. 
Press Contact
John Hill
Director of Marketing
WIN Enterprises, Inc.
Phone: 978-688-2000 x14
E-mail: johnh@win-ent.com