New Picosecond Lasers Provide Contrast Periodic Nanostructures with Antireflective Properties
Press Release Summary: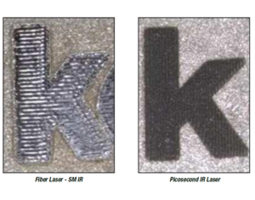 Create high contrast marks that are resistant to passivation, corrosion and autoclaving
Offer black and corrosion-resistant marking for medical device manufacturing industry
Feature ultrashort pulse durations that allows to impart energy to material surface with almost no thermal effect
---
Original Press Release:
AMADA WELD TECH INC Expands Laser Solutions in Medical Device Manufacturing by Adding Picosecond Black, Corrosion-Resistant Marking
Picosecond lasers create high contrast marks that are resistant to passivation, corrosion and autoclaving
MONROVIA, CA – AMADA WELD TECH, INC. now offers black, corrosion-resistant marking capability for the medical device manufacturing industry. This unique mark, frequently used for stainless steel implantable device and surgical tools (e.g. banding around trocars or UDI marking on surgical scalpels) survives multiple passivation and autoclaving cycles.
This black mark is generated using a picosecond laser. The ultrashort pulse durations of the picosecond laser allows it to impart energy to a material surface with almost no thermal effect. Unlike the heat-generated annealed marks made with fiber lasers, marks created by picosecond IR lasers are extremely high contrast periodic nanostructures with antireflective properties that make the marks appear deep black against their surroundings; they are restructured surface material rather than an oxide layer, making them highly resistant to bacterial growth, passivation, corrosion and autoclaving. In addition, the processing window for developing the marks on stainless steels, aluminum and titanium is significantly wider than that of traditional fiber lasers. Picosecond lasers also offer excellent marking capabilities on polymers often used in medical devices.
The picosecond laser is integrated into bespoke CDRH Class 1 systems that are designed for a specific part or range of parts. System features may include a galvo scanning head, a bar code scanner for job load, 4 or more axes of motion and machine vision for part recognition and mark placement.
Visit the website for more information.
About AMADA WELD TECH
Since 1948, AMADA WELD TECH has worked to achieve one goal: to solve customer's manufacturing challenges. Knowing there is no one solution that fits all, the company strives to provide customers with innovative and reliable manufacturing technology solutions in an effort to be their single source provider. AMADA WELD TECH manufactures equipment and systems for resistance welding, laser welding, laser marking, laser cutting, hermetic sealing and hot bar reflow soldering and bonding. The company serves a wide range of markets including medical devices, battery, aerospace, automotive and electronic components. AMADA WELD TECH is an ISO9001 certified company. Contact AMADA WELD TECH at info@amadaweldtech.com. Learn more about the company's products and services at www.amadaweldtech.com.
CONTACT:
Kristin Nugent
McNeil, Gray & Rice Inc.
617-367-0100 ext. 148
kristin.nugent@mgr1.com
Barbara Kuntz
AMADA WELD TECH INC.
barbara.kuntz@amadaweldtech.com
Related