New PCIe Gen3 NVMe and SATA3 SSD's Support TCG Opal 2.0
Press Release Summary: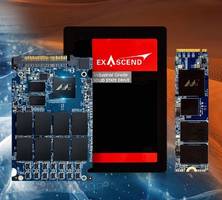 Exascend PI3 available in standard U.2 up to 8TB, M.2 2280 up to 4TB
Features high speed and low latency, wide temperature support of -40 – 85°C
SI3 series available with capacities up to 4TB and will be long-term support items
---
Original Press Release:
Exascend Introduces Industrial Rugged PCIe Gen3 and SATA3 SSD
Exascend, Inc., (www.exascend.com), a leading service-driven high-performance storage solution provider, announced the availability of new line of thermally optimized, ultra-high capacity, high speed and PCIe Gen3 NVMe and SATA3 SSD products based on Marvell's industry leading SSD controller.
The industrial-grade Exascend PI3 (PCIe Gen3x4) series comes with enterprise performance features that sustain high speed and low latency, wide temperature support (-40 – 85°C) and is available in standard U.2 up to 8TB, M.2 2280 up to 4TB. Legacy products such as the SI3 Series (industrial SATA3) are still available with capacities up to 4TB and will be long-term support items. The PI3 series is designed with innovative features and optimizations for industrial and rugged applications, such as edge servers, transportation, and emerging high-performance data storage applications that demand storage that excels in challenging environments.
"The new generation of industrial applications requires lower latency, consistent QoS, and ever increasing sustained high performance under all operation conditions. PI3 SSD product innovates by fusing Exascend enterprise performance storage with proprietary thermal management technology and extended temperature support," said Exascend CEO Frank Chen, "With the introduction of our rugged PCIe SSD for rugged applications, Exascend is very proud in achieving a significant milestone for the global storage industry. The accelerating trend of Flash adoption for rugged applications, industrial automation, edge computing has called upon service focused companies like Exascend to deliver enterprise performance solutions under wide temperature operating conditions – two conflicting requirements by conventional perceptions. By leveraging our deep expertise in SSD technology, Exascend is able to accomplish both requirements simultaneously and advance our mission to push the boundary of possibilities."
Hardware-based AES 256 Encryption Engine with TCG OPAL 2.0 support
Both PI3 and SI3 series products support TCG Opal 2.0, using hardware encryption technology to secure data stored. By encrypting the entire drive, users do not need to worry about their data being accessed if the drive, laptop, or mobile device is stolen or lost.
Exascend Adaptive Thermal Control
Exascend's patented algorithm continuously monitors drive thermals, and regulates drive performance to improve SSD reliability, simultaneously enhancing sustained performance and quality of service (QoS) by 10X.
About Exascend
Exascend is a service-oriented provider of innovative standard and custom storage solutions, specialized in low power, high performance, and high reliability products. Since its founding, the company has been awarded more than 45 US and worldwide patents on storage related technologies. With full lines of enterprise and industrial PCIe NVMe, SATA3 SSD, CFast, CFexpress cards, and DRAM product offerings, "Engineering Inspiration to Innovation" Exascend takes pride in enabling its global customers to push the boundary of possibilities and to differentiate with quality, reliability, and flexibility.
For more information, please visit: www.exascend.com
For Sales Inquiries: sales@exascend.com