Plasma / Flame / Laser Cutters and Cutting Machinery
New OPTIPLEX 3015 DDL Laser-Cutting Machine Features Multi-Control Torch
Press Release Summary: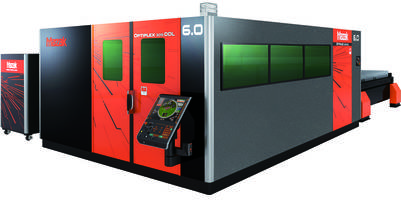 The OPTIPLEX 3015 DDL Laser-Cutting Machine uses flying optics, 2 pallet changer design and a MAZATROL PREVIEW G control digital drive. The unit comes with helical rack and pinion positioning system. The PREVIEW G control allows optimum acceleration and deceleration for high-speed corner cutting. The machine is offered with a 19 in. SXGA TFT touch screen monitor with integrated technology tables. It can be integrated into an Automated Storage/Retrieval system for high capacity.
---
Original Press Release:
Mazak Introduces 6 kW Direct Diode Laser at Fabtech
Elgin, Illinois, September 2018 – Mazak Optonics Corporation releases breatkthrough direct diode lasercutting technology at FABTECH ATLANTA in booth #B7529. Mazak Optonics will showcase two laser-cutting machines and one automation system with the highlight being the launch of the OPTIPLEX 3015 DDL 6kW. 
OPTIPLEX DDL represents the next generation of game changing solid state laser technology. It utilizes a flying optics, 2 pallet changer design with a new MAZATROL PREVIEW G control and high performance digital drive package. The OPTIPLEX DDL features a helical rack and pinion positioning system that delivers higher cutting speeds for maximum throughput.
The cutting-edge MAZATROL PREVIEW G control with 19" SXGA TFT touch screen monitor includes integrated technology tables that simplify operation. The control provides higher productivity through high-speed and high-accuracy. The new advanced hardware offers state of the art CPU for unsurpassed operation speed, high-response and high-speed machine motion. The MAZATROL PREVIEW G control provides optimum acceleration and deceleration for the reduction of cutting time plus tolerance control ensures high-speed corner cutting. The laser control generates optimum laser power in the minimum time to improve performance for fly cutting and sharp edge cutting.
The OPTIPLEX 3015 DDL combines Mazak's Intelligent Functions with the Multi-Control Torch to directly increase the productivity of the end user by allowing the machine to optimize setup automatically per program.
The OPTIPLEX 3015 DDL can be integrated into Mazak's extensive range of automation solutions. The machine can also be integrated into an AUTOMATED STORAGE/RETRIEVAL system for even greater capacity.
About Mazak Optonics
Mazak Optonics Corporation is a major supplier of laser-cutting systems, offering 50 laser models and leading the industry in the implementation of emerging laser technologies. The company's 50,000 sq. ft. North American Headquarters are located in Elgin, Illinois, and feature a 30,000 sq. ft. laser technology center housing up to 18 machines for demonstrations and training. Mazak Optonics is part of Yamazaki Mazak Corporation (Oguchi, Japan), the global leader for the manufacture of machine tools and systems for the precision machining of metal parts, including CNC turning centers, horizontal and vertical machining centers, Multi-Tasking machining centers, turnkey cells and software solutions. The North American Headquarters for Yamazaki Mazak are located in Florence, Kentucky. For more information on Mazak Optonics' products and solutions, visit www.mazakoptonics.com, email sales@mazaklaser.com or call 847.252.4500.
Media Contact:
Marc Lobit
GM Sales Support
847-252-4522
mlobit@mazaklaser.com
www.mazakoptonics.com
More from Packaging Products & Equipment