New Open-ended Flexible Tubes Available In Diameter Ranging from 13 mm to 25 mm and a Capacity Ranging from 1.5 ml to 30 ml
Press Release Summary: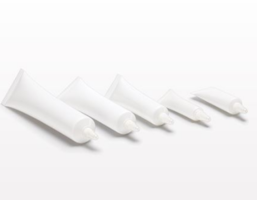 Available with foil seal and screw on cap, foil seal and flip top cap, needle nose tip and a slanted reducer tip closures
Ideal for formulations with SPF protection
Used for packaging or sampling lotions, gels, foundations, lip gloss and balms
---
Original Press Release:
Qosmedix Offers New Series of Open-ended Flexible Tubes
Ronkonkoma, NY, March 13, 2019 – Qosmedix now offers a complete range of open-ended flexible tubes for sampling and packaging skincare and cosmetic products. These tubes are available with four different closures; a Foil Seal and Screw On Cap, Foil Seal and Flip Top Cap, Needle Nose Tip, and a Slanted Reducer Tip. With a diameter range of 13 mm to 25 mm and a capacity range from 1.5 ml to 30 ml, these tubes are perfect for packaging or sampling lotions, gels, foundations, lip gloss and balms. The coex tubes are also ideal for formulations with SPF protection. The tubes come open-ended for easy factory filling. The stock components are available in white on Qosmedix.com but are fully customizable using the 3D product configurator now available on IttyBittyBeauty.com. Itty Bitty Beauty is a division of Qosmedix, specializing in mini packaging, that utilizes technology to help bring products to life, in addition to streamlining the sourcing and development process. To learn more about these products, please visit www.qosmedix.com. To use the 3D product configurator to customize these items, please visit www.ittybittybeauty.com.
Qosmedix is an ISO 9001, ISO 14001 certified global supplier to the cosmetic, skin care, spa and salon industries. Founded on the concept of maintaining hygienic practices during beauty consultations, the company has expanded to provide an array of high quality products that offer convenience and value to its customers. The vast inventory includes brushes, swabs, applicators, disposable spa wear, jars, bottles and more. For assistance with sample requests, orders or customization inquiries, please contact a Customer Specialist by phone: +1 (631) 242-3270, fax: +1 (631) 242-3291, or e-mail: info@qosmedix.com. Visit www.qosmedix.com to view the complete product line or download the latest full-line catalog. Qosmedix is a division of Qosina, a leading international supplier of components to the medical and pharmaceutical industries.
Contact:
Sydney Wiseman
QOSMEDIX
2002-Q Orville Drive N, Ronkonkoma, NY 11779
Tel: +1 (631) 242-3270
swiseman@qosmedix.com
More from Services