New Norbond A7600 Acrylic Foam Tape Available in 1.1mm Thickness
Press Release Summary: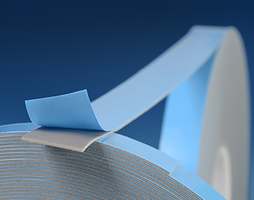 Features improved short term adhesion capability
Provides dynamic shear, static shear and tensile adhesion performance
Suitable for trailer and specialty vehicle bonding applications
---
Original Press Release:
Hold Fast with New Norbond® A7600 Acrylic Foam Tape!
March 22nd, 2019 -- Introducing Norbond A7600, a new high-performance gray acrylic foam tape for trailer and specialty vehicle bonding applications. Available in 1.1mm thickness, A7600 has several key features:
Enhanced short term adhesion capability (20 minutes after initial bond) on a wide variety of substrates, increasing productivity and speed of assembly
A modified foam core with greater conformability to allow for better adhesive wet-out on substrates and materials of various thicknesses and types
Excellent dynamic shear, static shear, and tensile adhesion performance help to resist forces associated with loading conditions common in real world applications
Easy release liner for seamless removal and quick application
Norbond A7600 is part of a full portfolio of products developed for the transportation industry, including Norbond Acrylicand Polyurethane Bonding Tapes and Norseal® PVC Gasketing Foams.
In addition to meeting the needs of the Truck Trailer and Specialty Vehicle market, A7600 can also be a good fit in many industrial applications where short-term adhesion capability and long-term hold are critical.
Contact us today to discuss whether A7600 would be a good fit for your application.
Contact This Company Download Spec Sheet
More from Adhesives & Sealants