New NF Aluminum Polishing Stone Can be Used in Reciprocating Profilers
Press Release Summary: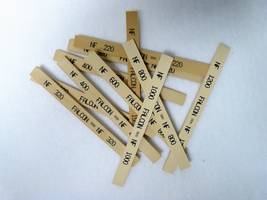 Falcon Non-Ferrous Aluminum Polishing Stone is available in 150-1200 grits. The NF is suitable for aluminum and non-ferrous polishing applications. Unit cuts and breaks down with improved finish. NF provides tearless and scratch-less surface.
---
Original Press Release:
Falcon Tool Introduces New "NF" Aluminum Polishing Stone
(Traverse City, MI, 6/27/2018) – Falcon Tool is pleased to announce the addition of the "NF" (Non-Ferrous) Aluminum Polishing Stone to their comprehensive line of made in USA polishing and sharpening stones.
The NF is a specially treated aluminum oxide stone of medium hardness that can be used by hand or in reciprocating profilers. Available in 150-1200 grits, the NF cuts fast and breaks down quickly while leaving an excellent finish. This new stone was developed to provide exceptional performance while polishing aluminum and other soft metals.
"The NF Stone is a significant addition to our polishing stone lineup in that it offers polishers a stone specifically engineered for polishing aluminum" says Betsi Burns, Sales and Product Manager. "The NF will not scratch or tear the surface making it the ideal choice for aluminum and other non-ferrous polishing applications."
Falcon Tool recommends that for maximum performance the NF Stone be used with a polishing lubricant such as their Stoning Oil to avoid the stone from loading up.
The NF Stone as well as the rest of Falcon Tool's unrivaled selection of polishing stones, tools, equipment and accessories are available on our website www.falcontool.com.
About Falcon Tool
For over 45 years Falcon Tool Company, Inc. has had an unequaled reputation for fine quality, fast service and competitive prices. Go to Falcon Tool for an unrivaled array of fine tools for: mold makers, die makers, engravers, die sinkers, tool rooms, production plants, and hobbyists ready to ship the same day as ordered.
For more information contact:
Lesley Murphy
Sales and Marketing Manager – Mold Polishing Products
231.929.2121 x 1141
www.falcontool.com
More from Construction Equipment and Supplies