New NAS Servers with Flash Fast Storage Devices
Press Release Summary: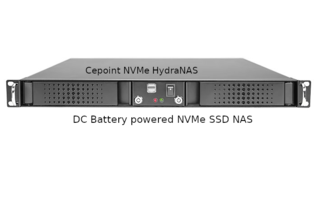 Available in 1U to 4U rack mount with DC battery power supply
Industrial operating temperature up to 60°C
Applications include grid-less solar power, data centers, industrial automation and industrial data storage
---
Original Press Release:
1U DC-DC Battery Powered Renewable Energy Rackmount Industrial NAS Servers
For IT Edge Computing and Cyber security operations boost connectivity by multi 25/100GB/s ports.
One small foot print in reducing global warming is to lower energy cost with non-fossil fuel alternative power utilization like DC Battery.
Cepoint's DC-DC battery powered All-Flash NVMe NAS Server series with FLASH FAST STORAGE devices now available in 1U to 4U rack mount with DC battery power supply options of 48V DC, 110V DC-240V DC is changing the way and pace IT industry is evolving in implementation of Green Computing and renewable energy for ever.
It is no coincidence that some of the largest power grid generation companies like GE, Siemens and ABB are fast adapting and implementing their Renewable Energy faster than current industry rate, all of them using Cepoint Networks Green Energy computing systems for these innovative solutions. While fossil fuel based energy is currently the most dominate energy resources for our planet, eventually global warming effects will continue to force many countries to rethink of their alternate energy solutions such as renewable energy. The US Department of Energy has been gradually trying to educate the industry about the benefits and advantages adapting renewable energy, however only few of industry large corporations are slowly implementing renewable energy concept.
Intel, Google, Facebook/Meta are quietly adapting green computing in their data centers but it will take time for entire industry to fully embrace the concept of renewable energy at their data centers. Cepoint Networks, however is not waiting to help in this innovation and technology disruption. Cepoint's series of DC-battery powered servers and storage NAS are just helping IT data centers adapt to this new and future trend. Talking of future trend, industrial organizations operating or planning of driving some or most of their energy sources from Solar Grid will benefit tremendously utilizing IT servers equipped with DC battery power. This is definitely a game change in lowering energy cost and help reduce global warming.
Ideal for Cybersecurity Data or 4K/8K Video Intensive recording, streaming or storage applications.
Cepoint Networks 1U rackmount PCIe 4.0 Bus NVMe Flash NAS may look like a small size black pizza box but do not under estimate this small tiny DC battery powered Enterprise Flash Storage server solutions. What sets this system apart from all others?. It is designed to operate with DC or Battery power option making the unit ideal for grid less operation or industrial environment where renewable energy or low power source and reliability is essential.
HydraNAS is performance power packed with NVMe PCIe modules or M.2 or U.2 SSD with up to 256Gbps /channel that is 40 x faster than standard SATA I/O speed. NVMe PCIe 4.0 based storage solution is now the fastest way to transfer data directly from memory to processor. Since the storage server uses latest generations of Multicore CPU's and GPU with massively parallel processing capacity, Cepoint's NVME based storage server is capable of accelerating massive databases and large-scale VM (Virtual Machine) farms for greater performance and shared storage in demanding applications that performs slowly in previous storage technologies like serial Attached SCSI (SAS) or SATA.
NVMe PCIe is next-generation interface communication between the CPU processor and Flash storage hardware. Transfers data at up to 128 Gb/s and has 64K command queues or send 64K commands per queue. With over 5M IOPS (random read) at very low power, applications for AI (Artificial Intelligence) or BI (Business Intelligence) is made readily easy to implement.
HydraNAS PCIe NVMe Flash NAS storage solution is best for data Intensive applications ideal for real-time services, high performance computing, AI / BI, deep-learning machines, and 4K/8K/3D media streaming servers and workstations. The NVMe NAS are available in 1U, 2U, 3U and 4U Industrial rackmount form factors with capacities ranging from 8TB to 480TB. In removable hot-swap media carts.
Applications:
Use with Grid-less Solar power
Data Centers
IT Edge Computing
5G Teleco operation
Industrial Automation
Enterprise Centric
Industrial Data Storage
Military
Edge Computing
High Speed databases
CDN
High speed data capture/acquisition, recording and streaming
SQL Servers Reporting Services
Enterprise Workload
Features
Features include
Industrial operating temp up to 60°C
Rugged environment: MIL-STD-810F compliant and 24/7 harsh industrial operating environment.
EMI protected
Vibration & Shock resilient
Scalable to 512 hpc nodes
Designed for enterprise and industrial 24/7 uptime mission-critical workloads and reliability such as CDN, edge computing, I-cloud, data centers and large databases.
Removable hot-swappable Flash/ SSD carts
Optional DC or Battery Powered unit
Data Protection: Encryption
Data Security: SED (Self-Encryption) AES-256 bit Encryption
SIE, FIPS 140-2
PLP (Power Loss Protection)
5 Million IOPS
10GbE/20GbE, 40GbE or 100GbE interface ports
SNMP Monitoring Support
Fail Alarm
Remote Management
Protocols
NFS, SMS, CIFS, FTP, SFTP, AFP, iSCSI, fC, SAS
Host/client OS support: Windows, Windows Server 2016, Windows Server 2022/2019, Linux, Oracle Solaris, AIX, HP-UX, Mac OS, VMware, ESX
About Cepoint Networks, LLC.
Cepoint Networks, LLC is a systems integration, and high performance computing provider, specializing in high availability storage, applied computing products, and services for enterprise applications, telephony and telecommunications industry, Government, utilities and industrial markets. The Company's other products and services include; turnkey rack mount fault-tolerant cluster servers for mission-critical applications, servers, video-on-demand, telephony systems for VoIP (Voice-over IP), video/audio conferencing, real-time IRIG-B or GPS time-stamp digital recorders, message logging and telecasting and, rugged portable lunch box workstations for field applications, network engineers and technicians. 1U, 2U, 3U and 4U NEMA and NEB's compliant servers and workstations for data acquisition, audio and video data archives or real-time video/data streaming. For more information go to:
http://www.cepoint.net/ or check www.cepoint.com/ruggedized-nas.html or contact: sales@cepoint.com
Contact:
Marketing Manager
Cepoint Networks, LLC.
Phone: +1-603-557-7464
Email: sales@cepoint.com
Related