New Multi-gas Analyzer for Measuring Combustion Exhaust Gases from Boiler
Press Release Summary: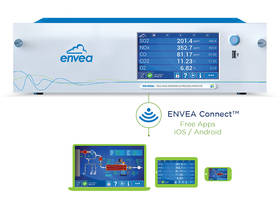 MIR 9000e utilizes optical and electronic technologies offering increased precision and robustness
Measure simultaneously and continuously up to 7 gases such as NO, SO2, CO, CO2, CH4, N2O an O2
Suitable for sites needing to comply with emissions reporting requirements related to large combustion plants
---
Original Press Release:
ENVEA Launches The MIR 9000e Smart, Connected Multi-gas Analyzer
Eco-designed, ultra-compact, smart & connected instrument, the MIR 9000e NDIR-GFCmulti-gas analyzer is a must have for measuring combustion exhaust gases from boiler, industrial furnaces and process applications, as well as for CEMS applications.
It can measure simultaneously and continuously up to 7 gases, depending on your selection: NO, SO2, CO, CO2, CH4, N2O, O2 and residual H20) including greenhouse gases. The analyzer is adaptable to your actual and future requirements and can be upgraded from one single parameter to the full gas configuration without hardware at customer site. It is particularly suitable for sites needing to comply with emissions reporting requirements related to Large Combustion Plants. The multi-gas monitor meets U.S. EPA approvals.
Extremely compact 19''- 3U analyzer, the MIR 9000e guarantees easy turnkey integration and smart operations including AMS control functionalities: integrated sampling control, automatic zero and span gas injection, external pump control, system alarms display, etc. Compatible with any type of drying technology (gas cooler, permeation, dilution), it is versatile and is suitable even for upgrades and seamless retrofit of existing gas cabinets on the market.
The gas monitor utilizes the most recent optical and electronic technologies offering increased precision and robustness, while requiring only limited maintenance and ultra low power consumption. Thanks to its breakthrough mechanical design for weight and power saving as well as its exclusive "inside the box" modular concept, the monitor is insensitive to T° variations in the range +5° to +40°C (no air conditioning required).
Smart and connected, with one click access to key functions via touchscreen or via full remote access to full operation from computer through TCP/IP connexion or on smartphone, through ENVEA Connect™ App (free download) and proprietary WiFi. Smartphone alerts and notifications, software updates, direct access to real-time and stored data with time frame selection to generate graphs, embedded Communication Protocol for DAHS software (WEX®) with automatic recognition and configuration, IoT services, etc. are just some of the ultra-innovative features that have been implemented in this highly innovative system.
Product page https://www.envea.global/s/process-en/gas-monitors-process-en/mir-9000e/
About ENVEA
ENVEA is a world-class manufacturer of ambient, emission and process monitoring systems, with full turnkey capabilities. ENVEA's equipment and technologies encompass gas analyzers, dust monitors, solids and flue gas flow meters, as well as environmental data processing and reporting solutions.
ENVEA US offices are located in Geneva, Illinois. Envea Group is headquartered in Poissy (France) and has over 700 FTEs within R&D centers, production facilities and Sales & Services local business units across France, the UK, Germany, Italy, the USA, India, and China. Its broad products range and monitoring solutions are supported worldwide by one of the largest sales and service organizations, through an exclusive and dynamic distribution network.
Please contact the US office in Geneva, Illinois for more information, email: [email protected] or call Kathleen Klimek at 630-262-4400. Thank you