New MON Series LTE Antenna Offers Higher Efficiency at Lower Frequency Bands
Press Release Summary: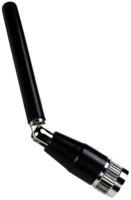 Linx Technologies introduces the cost effective MON series LTE antenna with tilt and swivel joint design for optimum performance in the product. The 4 cm tall external antenna can also fold against the enclosure for shipping or transport. This easy to implement antenna features durable and versatile design to reduce any damage from the impact forces.
---
Original Press Release:
New Cost-Effective and Easy to Implement LTE External Antenna From Linx Technologies
Merlin, OR – Linx Technologies – a Merlin, OR based developer and manufacturer of antennas – is pleased to announce the release of the new MON Series LTE antenna. The MON Series is a 4cm tall external antenna that offers higher efficiency at the lower frequency bands on a smaller ground plane than competitive products. The tilt and swivel joint design allows for the antenna to be positioned for optimum performance in the product or folded against the enclosure for shipping or transport. This durable and versatile design also reduces any damage from impact forces compared to a fixed antenna.
"As cellular module costs come down well below $10, the antenna has become a much greater percentage of the system cost.  Design engineers' only truly low-cost option had been embedded antennas, but the designer had to tackle complicated antenna tuning circuits. They got cost, but also a lot of design risk." said Linx Technologies President and CEO, Tolga Latif.  "The MON Series LTE antenna changes that.  As an external antenna, it is inherently easier to implement, while its cost is as low as leading embedded LTE solutions."
The MON Series LTE Monopole Antenna are available today via our distributor and manufacturer representative networks. For larger quotes, please contact Linx Technologies at sales@linxtechnologies.com. For more information about the MON Series LTE Monopole Antenna go to https://linxtechnologies.com/wp/product/lte-monopole-antenna/
About Linx Technologies
Linx Technologies strives to make every engineer a hero in record time™ by minimizing the risk, delays, and technical challenges for design engineers to make their products wireless and connect to the Internet of Things (IoT). Linx manufactures wireless components including antennas, modules, remote controls and RF connectors. If you choose to incorporate our components in your design, we relentlessly focus on ensuring your successful product launch.
Our tag line is Wireless Made Simple™, meaning that we specialize in making the complex world of radio frequency easy for engineers of all skill levels to use. Unlike other wireless suppliers, every aspect of our products, documentation, support, and design experience are specifically crafted to achieve Wireless Made Simple.
For more information about wireless products from Linx, visit www.linxtechnologies.com or call +1 800 736 6677 (+1 541 471 6256 outside the United States).
More from Agricultural & Farming Products