New Model CFO 25 Continuous Filter Operation System Features a Cover with 360 Degrees of Studs
Press Release Summary: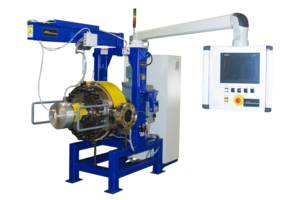 The Model CFO 25 Continuous Filter Operation System is designed for handling materials, such as PE, PP, PS, PC, and ABS. The system can handle up to 0.75 in. of foreign material and up to 10% paper. This CFO 25 unit comes with a robust design that can handle up to 3500 psi and delivers an output up to 3000-7500 lbs/hr. The System is used on contaminants, such as metal, wood, paper, textile fibers and un-melted plastic granules.
---
Original Press Release:
ADG Solutions Announces New Improvements to the CFO Line of Continuous Melt Filtration Systems as Well as a New Model CFO 25
(ADG Solutions, Tucker, GA, August 6, 2018)… ADG Solutions offers a complete line of highly engineered and robust Continuous Melt Filtration Systems (CFO) manufactured in Atlanta, GA and with fully stocked parts and service to all of North America. The CFO system makes possible uninterrupted extrusion, even when processing highly contaminated materials. Unlike conventional screen changers, which require extensive and constant operator attention, the CFO – which stands for Continuous Filter Operation – can operate automatically with minimal operator attention during a shift. As extruded material enters the unit, it passes through a stainless-steel screen plate that is micro drilled and hard faced, filtering contaminants that are caught on the screen-plate surface. When waste builds up and back pressure reaches a preset level, a rotating blade sweeps the screen and removes the contamination through a discharge port.
CFO Models
          CFO Model                     Diameter (in)                       lbs/hour
            CFO 15                              15                                    800-1800
           CFO 20                               20                                   1200-4000
           CFO 25                              25                                    3000-7500
The CFO handles a broad range of materials including PE, PP, PS, PC, and ABS. The filter can handle up to 10% paper and other foreign objects up to 0.75 inch in diameter. Contaminants such as metal, wood, paper, textile fibers, un-melted plastic granules, and a smaller percentage of aluminum, lead, copper, rocks and other impurities is readily tolerated.
CFO offers cost effective systems with low operating costs:
• Screens and blades are stocked in Atlanta in most filtration sizes
• Electrical parts are US parts and available at most the wholesalers
• Wear parts and all machine parts are stocked in Atlanta 
New Designs for Improved Performance
New advancements are now available on the complete CFO line to improve the overall performance of these systems. These include a new scraper design that has been refined for smaller purges. This design improves efficiency and covers a broader range of applications. The corresponding computer program/ controls has been updated to allow the amount of scrapes in between purging to be variable so the user can maximize contamination collection.  The screen plate filter has also been redesigned to be thicker, harder and with more uniform hole quality. 
Coming early fall, a new diamond hard plate surface will be available for aggressive and abrasive processes. This design will offer a significantly longer screen life by 2-3 times over the existing design. 
Introduction of the NEW CFO 25
The New Model CFO 25, introduced at the recent NPE show, offers over a 10% larger screen surface area and sizing that is completely imperial - replacing the existing 600mm model. The cover includes 360 degrees of studs thereby properly sealing the surface and preventing any leaks. This robust design tolerates much higher pressures of up to 3500 psi. 
About ADG
From scrap to pellet, ADG Solutions helps companies process hard-to-recycle plastic waste from industrial, commercial and post-consumer sources. In business for over 14 years, the company engineers custom systems including washing, size-reduction, densifying, extrusion, filtration, pelletizing and material handling equipment. ADG Solutions works collaboratively with clients through a process of discovery to consider every step, variable, and detail critical to the success of their plastics recycling business.  The process ensures a plastic recycling system that perfectly suits the client's business model, capabilities, expansion and growth.
For more information contact
Andrea Siy
S!Y Communications
978-465-6363
Sandy Guthrie, President
ADG Solutions
203-610-1500
Related