New Mobile Induction Power Supply is Offered with an Integrated Chiller
Press Release Summary: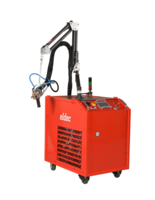 The Mobile Induction Power Supply allows the user to perform brazing tasks over long periods of time. The unit comes with an optional boom arm to support the coax transformer's weight. It features a flexible output, pyrometer integration capabilities and a mobile base. The product is designed for manufacturers who use induction brazings.
---
Original Press Release:
Brazing is a Breeze with the MiniMICO
Figuring out how to position and manage the weight of the induction tools is one of the challenges facing manufacturers who use induction brazing. With this in mind, eldec developed the MiniMICO, a new mobile induction power supply with an optional boom arm that supports the coax transformer's weight. The ergonomic design balances the tools, reduces the weight load and allows users to perform brazing tasks comfortably over longer periods of time.
The MiniMICO also comes with the following features:
flexible output
an integrated chiller
a mobile base and
pyrometer integration capabilities
Your parts and manufacturing processes are unique. At eldec, every project begins with a design review and process development discussions. Our experienced team will help you chose an induction power supply and design induction coils for your specific parts and production environment. And, if induction heating is new to you and your staff, operator and maintenance training is available in our plant in Auburn Hills, Michigan or at your site.
To learn more about the MiniMICO induction power supply please call us at (248) 364-4750 or view a video on our website, www.inductionheatingexperts.com, and see how easy this generator is to use.
eldec LLC
3355 Bald Mountain Rd., Unit 30
Auburn Hills, MI 48326 USA
Phone: (248) 364-4750
Email: info@eldec-usa.com
Website for USA, Canada and Mexico: www.inductionheatingexperts.com
Worldwide website: www.eldec.net
More from Fasteners & Hardware