New ML61 EMI/RFI Filters Used in Military Electronic Systems
Press Release Summary: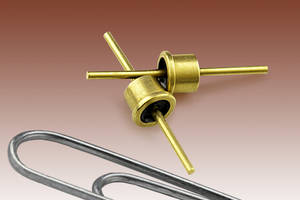 Offers voltage rate from 50 Vdc to 200 Vdc
Available with operating temperature of -55°C to +125°C
Ideal for military communication devices, oscillators and low noise amplifiers
---
Original Press Release:
TTE Filters Announces its Instec "ML61" EMI/RFI Filter Series Attains MIL-PRF-28861 for Defense Applications
Lowpass, Feed-Through, C-Circuit Filters Suppress Broadband Radio Frequency Interference
21 April 2021, Gowanda, NY (USA) – TTE Filters, a designer and manufacturer of RF and microwave filters for high performance applications announces that its Instec Filters brand ML61 EMI/RFI filters are now qualified to the US Department of Defense DLA Land and Maritime's MIL-PRF-28861 military standard. This series will be featured at the 2021 International Microwave Symposium in Atlanta on June 8-9, booth #1129.
This series can now be used in military electronic systems to suppress and reduce broadband radio frequency interference which would otherwise compromise system performance. These high performance systems are utilized in military communication devices, oscillators, attenuators and low noise amplifiers.
The electrical characteristic ranges of these lowpass, feed-through, C-circuit, solder-in ML61 filters include Rated Voltage from 50Vdc to 200Vdc, Capacitance from 10pF to 15,000pF and Minimum Insertion Loss from 3dB to 60dB. The Operating Temperature is -55°C to +125°C. Refer to the table below for part-specific details.
The parts in this ML61 series are hermetically glass sealed at one end and epoxied at the other end, with the location of the glass seal dependent on the particular configuration. In conformance with the MilSpec, the company can provide these filters in Configuration A (ML610) or Configuration B (ML611). Please refer to the MIL-PRF-28861/12H standard for more information. The main body of each part in this series measures 0.128in. (3.25mm) in diameter while the main body height is 0.110in. (2.79mm) and the overall tip-to-tip length is 0.625in. (15.88mm). More technical information is provided in the ML61 datasheet at TTE's website.
TTE Filters News Release – Instec M28861 EMI/RFI Filters ML61 – 21 April 2021, p.2/2
The MilSpec qualification – specifically MIL-PRF-28861/12H Class B – required rigorous electrical, thermal and mechanical testing including solderability, moisture resistance, solvent resistance, corrosion resistance, physical shock, thermal shock, vibration and life testing of this series. Testing was performed at the in-house environmental testing lab of sister company Gowanda Electronics. This lab is Defense Logistics Agency Land and Maritime approved (in support of internal product qualifications).
TTE welcomes inquiries regarding the upscreening of additional filters for applications in defense, military and space communities. The company also supports custom designs with extensive experience, proprietary manufacturing equipment, prototyping capabilities and testing facilities.
The ML61 series is manufactured, marked and sold under the Instec Filters name; Instec is now part of TTE.
For technical assistance, part pricing or other information please contact TTE at +1-716-532-2234 or sales@tte.com.
Helpful Links:
TTE Filters, (www.tte.com) designs and manufactures high reliability RF filters and microwave filters for a variety of critical, high performance end markets including defense and test & measurement. Standard and custom filter products include bandpass, bandreject (notch), highpass, lowpass, high power lowpass, diplexers, multiplexers, bias tees, amplitude equalizers and other networks. Design capabilities include LC or lumped element and combline or cavity; topologies include Bessel, Butterworth, Chebyshev, Elliptical and Gaussian. Through its Instec Filters brand, TTE also designs and manufactures filters for the suppression of electromagnetic interference and RF interference in electronic systems. These EMI/RFI filter products include solder-in feedthrough filters, bolt-style resin-sealed filters, bolt-style hermetic filters and value-added custom assemblies. In-house test facilities can upscreen filters to MIL-PRF-15733 and MIL-PRF-28861 requirements. TTE's filters are used by OEMs and other organizations around the world to enhance communication and signal processing in cellular, data acquisition, electronic support, radar, satellite, sonar, telecommunication, telemetry and wireless applications in commercial, industrial, medical and military/defense sectors
Contact:
Mary Spohn
Marketing Tactics & Strategies, USA
t: 716-639-7595
mt.spohn@verizon.net
David Zavac
TTE Filters
Sales Manager, Filters
Tel: +1-716-532-2234
Fax: +1-716-532-2702
dzavac@tte.com
Related