New Miura Board Building Material is Suitable for Heavy Traffic Outdoor Applications
Press Release Summary: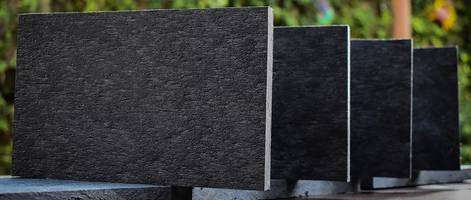 The Miura™ Board Building Material is available with 10% carpet backing up to 70% based on the requirement of finished product. It is made of continuous extrusion and lamination that allows required length and thicknesses between ¼ in. and 2 in. The Miura Board is suitable in siding, decking, reusable concrete forming, and marine applications. The product can be drilled, cut, routed, and sanded like wood and be water jet, laser cut and welded like a metal. The material is resistant to abrasion and impact.
---
Original Press Release:
Athyron LLC is Proud to Announce the Launch of Miura Board™
Athyron LLC is proud to announce the launch of Miura Board™: the most durable 100% recycled alternative to wood and plastic, containing 50% carpet backing from recycling operations. This highly scalable technology has the potential to significantly reduce the stream of carpet currently being disposed of in the nation's dwindling landfills.
Miura Board™ can be made in a wide range of formulations, from as little as 10% carpet backing to as high as 70%, depending on the desired properties of the finished product. It's literally possible to "tune" the finished product on a scale of rigidity and surface smoothness. The color can be controlled by adding pigments or by pre-selecting the plastic scrap according to color. The continuous extrusion and lamination allow for any desired length while the thickness can be adjusted between ¼" to 2".
Miura Board™ is a novel material at the intersection of plastics, metals, and wood. It exhibits remarkable properties in that it has better strength than conventional plastics, reduced thermal expansion, excellent sound insulation properties, and improved resistance to crystallization at low temperatures. In addition, it can be itself recycled 100%.
Miura Board™ can be drilled, cut, routed, and sanded just like wood; however, it can also be water jet, laser cut and welded like a metal, which opens up enormous opportunities in the siding, decking, reusable concrete forming, and marine applications.
Unlike common WPCs (wood-plastic composites), Miura Board™ contains no wood or any other organic ingredients susceptible to fungal attack. For this reason, it does not require to be capped as WPCs do. This results in greatly increased durability and resistance to abrasion and impact, which is ideal for heavy traffic outdoor applications in high humidity coastal and tropical environments, as well as in harsh winter conditions. It will not crack, splinter or split, and is unaffected by termites, fungi, etc.
The innovative and proprietary technology making this possible hails from Brazil, where it's been in use for over 14 years. Athyron was granted an exclusive license for the US, Canada, and Puerto Rico. Miura Board™ is manufactured in a brand new facility located in Kountze, TX.
The technology boasts crucial environmental advantages, in particular, it does not consume any water nor does it create any effluents. It does not require the addition of adhesives or catalysts, and is robust in terms of the types of thermoplastics that can be used: even commingled or contaminated plastic scrap containing cardboard, aluminum foil, minerals, or wood is processable.
Athyron plans to first add additional production lines at its Kountze, TX location and then partner with other investors and key strategic manufacturers to rapidly expand by opening multiple plants located in close proximity to abundant sources of plastic scrap or carpet backing or both.
For additional information please contact:
Alfredo Faubel
CEO
Athyron LLC
+1 (409) 200-7110 x2 
More from Electrical Equipment & Systems